Guitarists Paul Brown and Peter White are smooth jazz giants, each having played alongside some of today's best and brightest stars. Their latest solo offerings, feature some familiar names from the past.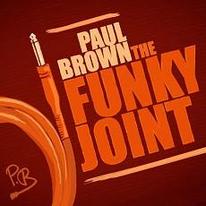 Paul Brown may have invented a whole new sub-category of jazz, "smooth funk." In fact, strains of funk are heard throughout his latest album The Funky Joint, along with his usual blend of instrumental pop, jazz and R&B. Special guests include saxophonists Boney James and Euge Groove, as well as piano veteran Bob James on the tune "Backstage Pass."
Brown was destined to become a musician. His parents, who sang with Mel Torme and Barbra Streisand, supported his early musical endeavors. He learned to play drums at age five and guitar two years later, setting the stage for his long and fruitful career as a performer, songwriter and producer.
A two-time Grammy winner, Paul Brown believes in keeping it simple. "When something moves me emotionally, then I know it's good," he says.
From The Funky Joint Paul Brown performs Montreux. One of Paul's longtime collaborators is guitarist Peter White, who recently made his first-ever debut at Number One on the Jazz Albums chart with Here We Go.
Peter grew up listening to the Beatles on the radio in his native England. A self-taught guitarist, he later added the recorder, piano and clarinet to his repertoire. He collaborated with folk-rock singer Al Stewart, pop star Basia and others before launching his solo career in 1990.
The title song from Here We Go features saxophonist David Sanborn, who Peter calls "a legend to me and to just about every musician I know."
Millions of teens show a taste for "The Hunger Games"
Jazz album features newly-released collection of miles Davis Quintet concerts
Vince Gill returns to country charts with 'Guitar Slinger'
Bucky, John Pizzarelli share mutual love of jazz on 'Family Fugue'
(来源:VOA 编辑:Rosy)