长大后,或许我们都不再相信童话里那会变成青蛙的王子、穿着靴子说话的猫,也不相信勇敢的白马王子总能牵到美丽公主的纤纤玉手。正因如此,我们才更需要童话。童话无边无际的想象和童真,呈现着人类灵魂中最诚实、善良的东西,让我们在光怪陆离的社会中寻得一处静谧和希望的开始……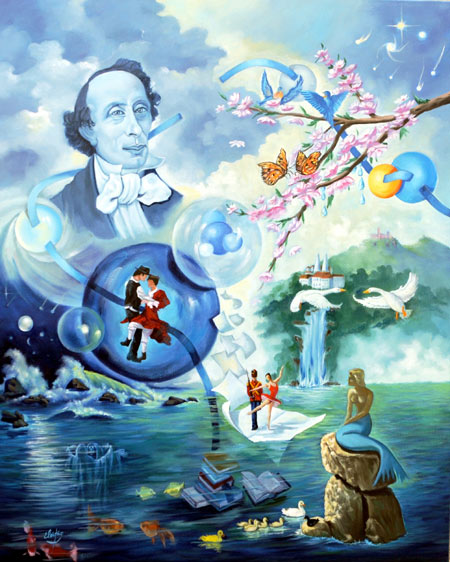 By Carrie Wells
钟凡凡 选注
"If you can see the magic in a fairytale, you can face the future." —Danielle Steel
Who have not read fairytales? We all have had the experience of reveling in the beauty and innocence of fairytales. May it be Cinderella or Sleeping Beauty... fairytale is a word which cannot be new to us. But have you ever traveled ages back to the earliest of times and uncovered the fascinating facts about these stories? Well, if not, then here are some mystical finds I discovered when I undertook this journey.
A fairytale or fairy story is a fictional tale that usually features folkloric characters (such as fairies, talking animals) and enchantments, often involving a far-fetched sequence of events. A fairytale often stars transformed princes, princesses, animals, as in "fairytale ending" where the humble but heroic princes defeat the wicked enemies or as in "fairytale romance" where after much ado the beautiful princesses marry their Prince Charming. One distinct feature of fairytales is that, they take place "once upon a time".
The history of the fairytale is particularly difficult to trace. The oral tradition of the fairytale came long before the written page. The oldest known fairytales stem from ancient Egypt around 1,300 B.C and now, after travelling through various periods of time, they have grown and matured in various aspects and have become the most popular genre of stories for young children.
The characters and motifs of fairytales are recurring and simple: Princesses and goose girls, youngest sons and gallant princes, ogres, giants, wicked stepmothers, fairy godmothers, talking animals, glass mountains, witches, castles, meadows and the like. The tale goes into an unreal world and in this never-never land humble heroes kill adversaries, succeed to kingdoms and marry the ever-beautiful princesses. W.H Auden said "The way to read a fairytale is to throw yourself in." It is very true indeed. Unless the drama... the suspense... the thrill... the magic vibrates within us, we will not be able to feel the ecstasy of reading a fairytale. So whenever you read a fairytale, imagine you are the hero/heroine and try to invoke the feel of the dramatized series of happenings, and you will be carried to a mystical land where everything will be as you want.
The most famous authors of fairytales are the Grimm Brothers whose works include Cinderella, Rapunzel, Sleeping Beauty, Snow White and the Seven Dwarfs and many more; Hans Christian Anderson who wrote Thumbelina, The Ugly Duckling, The Little Mermaid to mention only a few, and Charles Perrault who wrote Puss-in-Boots, Little Red Riding Hood, Bluebeard amongst many others. The Grimm Brothers collected their tales from farmers and edited them to suit their audience; most of Perrault's stories are retellings of old tales. But whatever may the form be, fairytales are after all fairytales!
G. K. Chesterton said, "Fairytales do not tell children the dragons exist; they tell the dragons can be killed." This quote has great weight. Every child believes in fairies, dragons, etc. They do not need fairytales to tell them that. Instead fairytales tell that good always succeed over evil. So fairytales are necessary for young minds.
Friends, as we grow up we cease to believe in these fantasy-based characters. But as we read in the famous story Pandora and the Hope Fairy, there are loads of evil, treacheries, malevolence in this world but there also lives a fairy called Hope, because of whom we are able to survive these anxieties of life.
Fairytales are narrated to children when they are young. This is very essential indeed, for if in the beginning of our lives our minds are touched by the beauty, innocence and the morals in these tales, we will be able to trace the optimistic side of happenings. The fairies are like our wildest dreams, which seem unreachable but we can make them plausible . Friends, in life, sometimes, believing in such mystics can lead to supreme happiness.
Well, I don't know about you, but I do believe in fairies... and who knows, I may someday meet one because, after all, believing is just the beginning! And as J.M.Barrie said, "When you say I don't believe in fairies, a fairy somewhere drops dead." And I wouldn't want anyone dead on my account, would you?
(来源:英语学习杂志 编辑:丹妮)