关于中美经贸摩擦的事实与中方立场
新华网 2018-09-25 10:36
分享到微信 五、美国政府不当做法对世界经济发展的危害
V. Damage of the improper practices of the US administration to global economy
美国政府采取的一系列极端贸易保护措施,破坏了国际经济秩序,伤害了包括中美经贸交往在内的全球经贸关系,冲击了全球价值链和国际分工体系,干扰了市场预期,引发国际金融和大宗商品市场剧烈震荡,成为全球经济复苏的最大不确定因素和风险源。
The US government has taken extreme trade protectionist measures, which have undermined the international economic order, caused damage to China-US trade and trade relations around the world, disrupted the global value chain and the international division of labor, upset market expectations, and led to violent swings in the international financial and commodity markets. It has become the greatest source of uncertainty and risk for the recovery of the global economy.
(一)破坏多边贸易规则和国际经济秩序
1. Such measures undermine the multilateral trade rules and the international economic order
在走向文明的历史进程中,人类社会已普遍接受一套基于规则和信用的国际治理体系。各国无论大小强弱,均应相互尊重、平等对话,以契约精神共同维护国际规则,这对于促进全球贸易投资、促进全球经济增长具有基础性作用。然而,美国政府近期采取了一系列违背甚至破坏现行多边贸易规则的不当做法,严重损害了现行国际经济秩序。美国政府多次在公开场合抨击世界贸易组织规则及其运行机制,拒绝支持多边贸易体制,消极参与全球经济治理,造成2017年和2018年亚太经合组织贸易部长会议均未在支持多边贸易体制问题上达成一致立场。特别是美国政府不同意将"反对贸易保护主义"写入部长声明,遭到亚太经合组织其他成员一致反对。美国猛烈抨击世界贸易组织上诉机构,还数次阻挠上诉机构启动甄选程序,导致世界贸易组织上诉机构人员不足,争端解决机制濒临瘫痪。
In the advance toward civilization, humanity has widely accepted an international governance system based on rules and credibility. Countries, big or small, strong or weak, should respect each other, engage in equal-footed dialogue and jointly safeguard international rules in the spirit of contract. This is fundamental to promoting global trade and investment and boosting global growth. However, the recent steps taken by the US administration that are contrary and even destructive to the existing multilateral trade rules seriously undermine the current international economic order. The US administration has issued open criticisms of the rules and operation mechanism of the WTO on various occasions. It has refused to endorse the multilateral trading system, and at the same time has adopted a negative attitude toward global economic governance, which caused the failure of the APEC Trade Ministers Meetings, in both 2017 and 2018, to reach consensus on supporting the multilateral trading system. In particular, the US administration's objection to writing "opposition to trade protectionism" into the ministers' statement was met with opposition from every other APEC member. The US lashed out at the WTO appellate body and repeatedly blocked the appointment procedures of the body, resulting in an understaffed appellate body and pushing the WTO Dispute Settlement Mechanism to the brink of paralysis.
(二)阻碍国际贸易和全球经济复苏
2. Such measures obstruct world trade and the recovery of the global economy
随着全球化进程发展,各国经济基于经贸关系的相互关联度越来越高,贸易已成为全球经济增长的重要动力。根据世界银行统计,全球经济对贸易增长的依存度已从1960年的17.5%上升到2017年的51.9%(图13)。
As globalization moves forward, the economies of the world are increasingly connected through trade. Trade has become a major engine for global growth. According to the World Bank, the international economy's dependence on trade rose from 17.5 percent in 1960 to 51.9 percent in 2017 (Chart 13).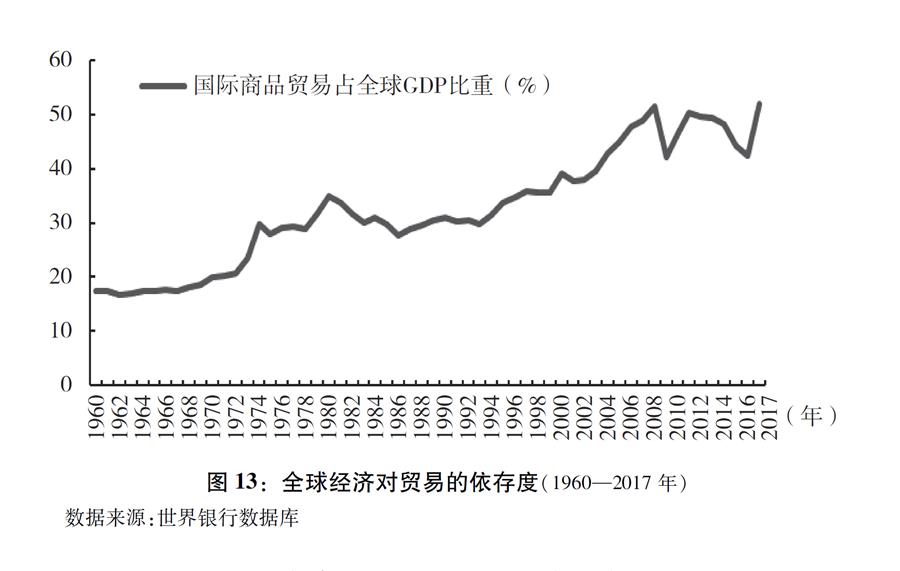 当前,全球经济刚刚走出国际金融危机的阴影,回升态势并不稳固。美国政府大范围挑起贸易摩擦,阻碍国际贸易,势必会对世界经济复苏造成负面影响。为了遏制美国的贸易保护主义行为,其他国家不得不采取反制措施,这将导致全球经贸秩序紊乱,阻碍全球经济复苏,殃及世界各国企业和居民,使全球经济落入"衰退陷阱"(表6)。
The global economy has just emerged from the shadow of the 2008 global financial crisis and the recovery is yet to be solidly-based. In this context, the US administration's actions to instigate large-scale trade frictions and impede the flow of world trade will undoubtedly affect the recovery of the global economy. In order to mitigate the protectionist moves of the US, countries are left with no choice but to take countermeasures. This will disrupt the world economic and trade order, and hold back global recovery, damaging the interests of companies and people of all countries and pushing the global economy back into recession (Table 6).
世界银行2018年6月5日发布的《全球经济展望》报告指出,全球关税广泛上升将会给全球贸易带来重大负面影响,至2020年全球贸易额下降可达9%,对新兴市场和发展中经济体的影响尤为明显,特别是那些与美国贸易或金融市场关联度较高的经济体(图14)。世界贸易组织总干事罗伯特·阿泽维多表示,若关税回到关税总协定/世界贸易组织之前的水平,全球经济将立即收缩2.5%,全球贸易量削减60%以上,影响将超过2008年国际金融危机。贸易战对所有人都有害,特别是穷人将损失63%的购买力(注76)。历史教训一再表明,贸易战没有赢家,甚至会给世界和平和发展带来严重影响(专栏8)。
According to "Global Economic Prospects" published by the World Bank on June 5, 2018, a broad-based increase in tariffs worldwide would have major adverse consequences, which could translate into a decline in global trade amounting to 9 percent by 2020. The impact would be more severe on emerging markets and developing economies, particularly on those with large trade or financial market linkages with the US (Chart 14). According to WTO Director-General Roberto Azevedo, if tariffs return to the pre-GATT/WTO level, the global economy would contract by 2.5 percent instantly and more than 60 percent of global trade would disappear, creating an impact more serious than that of the 2008 global financial crisis. A trade war is detrimental to all, and particularly to the poor, who could lose 63 percent of their purchasing power. History has proven time and again that trade wars produce no winners and can severely affect world peace and development (Box 8).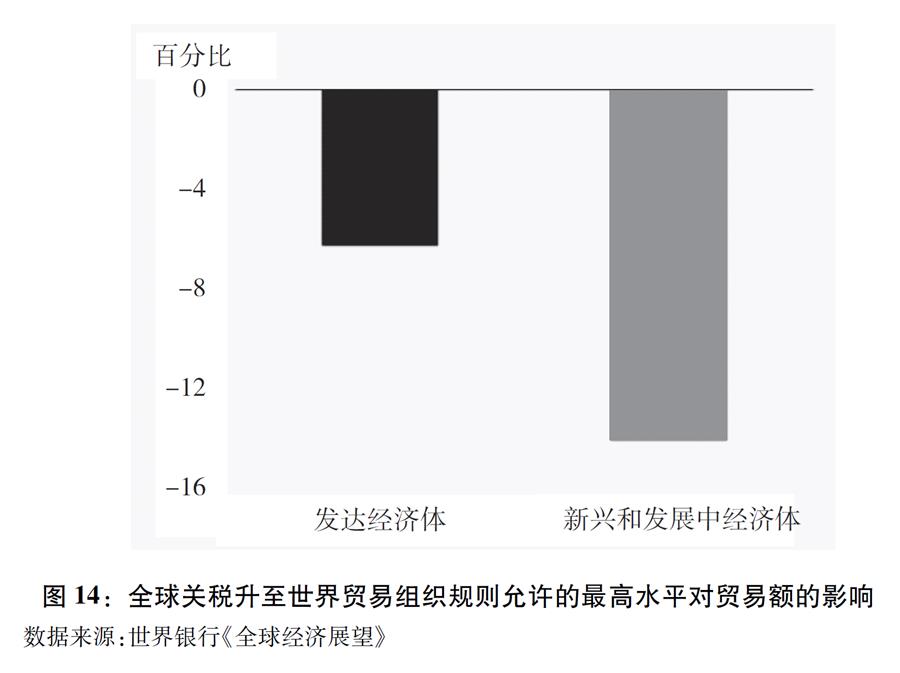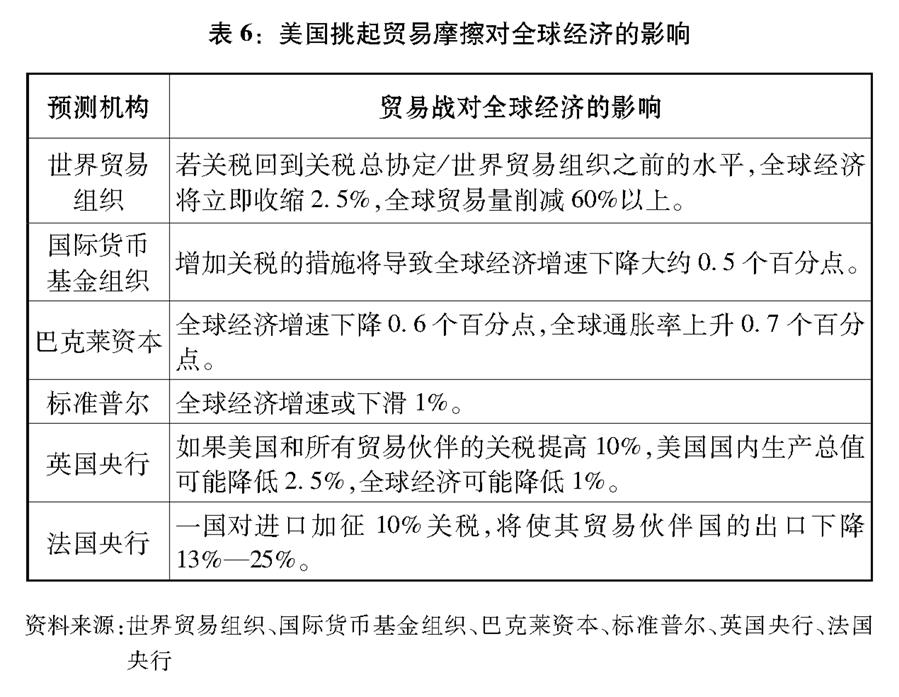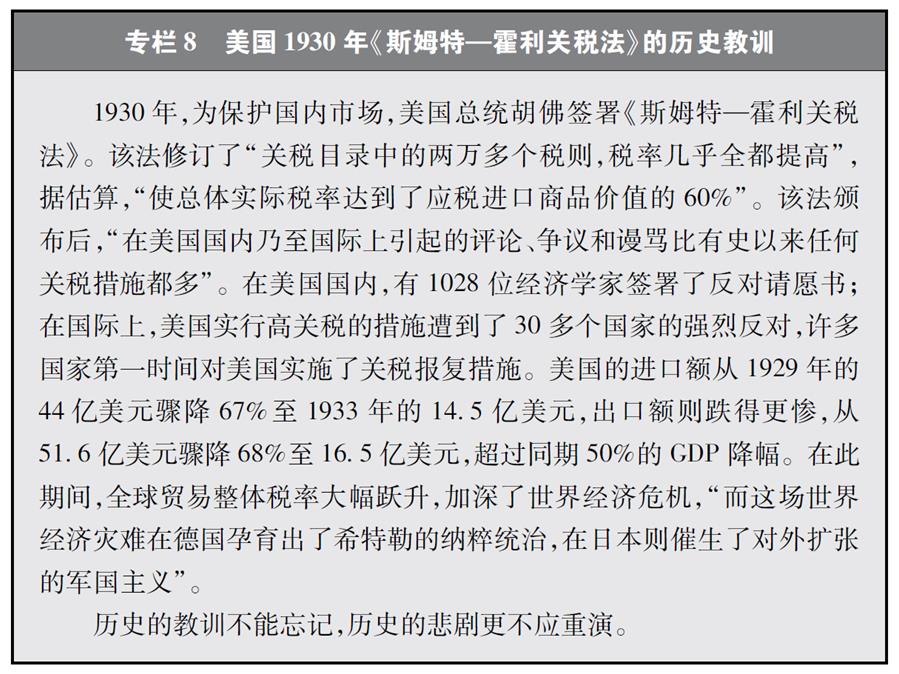 图表:专栏8 美国1930年《斯姆特—霍利关税法》的历史教训 新华社发
(三)冲击全球价值链
3. Impact on the global value chain
当前,全球经济已经深度一体化,各国充分发挥各自在技术、劳动力、资本等方面的比较优势,在全球经济中分工合作,形成运转高效的全球价值链,共同分享价值链创造的经济全球化红利。尤其是以跨国公司为代表的各国企业通过在全球范围内配置资源,最大限度降低了生产成本,提高了产品和服务质量,实现了企业之间、企业与消费者之间的共赢。
In a deeply integrated global economy, countries form a highly efficient global value chain and share in the dividends of economic globalization through division of labor by harnessing their respective strengths in technology, labor and capital. Companies, especially multinational ones, minimize their production costs and raise the quality of their products and services through global allocation of resources, thus achieving a win-win result for themselves and for consumers.
美国政府通过加征关税、高筑贸易壁垒等手段在世界范围内挑起贸易摩擦,以贴"卖国标签"、威胁加税等方式要求美资跨国公司回流美国,将严重破坏甚至割裂全球价值链,冲击全球范围内正常的产品贸易和资源配置,并通过各国经贸的相互关联,产生广泛的负面溢出效应,降低全球经济的运行效率。比如,汽车、电子、飞机等行业都依靠复杂而庞大的产业链支撑,日本、欧盟、韩国等供应链上的经济体都将受到贸易收缩的负面影响,并产生一连串的链式反应,即使美国国内的供应商也会在劫难逃。根据中国商务部测算,美国对华第一批340亿美元征税产品清单中,约有200多亿美元产品(占比约59%)是美、欧、日、韩等在华企业生产的。包括美国企业在内,全球产业链上的各国企业都将为美国政府的关税措施付出代价。
By raising tariffs and erecting trade barriers, the US administration has provoked trade frictions worldwide. US multinationals are being threatened with "traitor" labels and punitive taxes if they do not move their operations back to the US. Such moves will seriously undermine or even break the global value chain, and jeopardize the normal flows of trade and resource allocation across the world. And because of the interconnections between countries through trade and economic links, they will also produce extensive spillovers, and reduce the efficiency of the global economy. For example, sectors such as automobiles, electronics and aircraft are all supported by complex, massive industrial chains. Economies on the supply chain, including Japan, the EU and the ROK, would all be adversely affected by contracting trade. Even US suppliers would not be immune from the subsequent ripple effect. According to the estimates of the Chinese Ministry of Commerce, of the US$34 billion of Chinese products targeted by the first round of US tariff increases, over US$20 billion – nearly 59 percent of the value – are goods produced by companies from the US, the EU, Japan, the ROK and other economies operating in China. Ultimately, companies from all countries on the global industrial chain – including those from the US – would have to pay the price for tariff measures introduced by the US administration.
国际货币基金组织2018年4月17日发布的《世界经济展望》报告指出,关税和非关税贸易壁垒的增加将破坏全球价值链,减缓新技术的扩散,导致全球生产率和投资下降。彼得森国际经济研究所认为,若美国对中国施加贸易制裁并导致中国反制,许多向中国出口中间产品和原材料的国家与地区也将遭受严重冲击(注77)。
The "World Economic Outlook" report released by the IMF on April 17, 2018 noted that raising tariffs and non-tariff trade barriers will disrupt the global value chain, slow down the spread of new technologies, and lead to a drop in global productivity and investment. The Peterson Institute for International Economics (PIIE) argued that if the US imposes trade sanctions on China that prompt countermeasures, many countries and regions that export intermediate inputs and raw materials to China will also take a heavy hit.
(四)贸易保护主义最终损害美国自身利益
4. Trade protectionism will ultimately hurt US interests
在经济全球化的时代,各国经济你中有我、我中有你,特别是大型经济体存在紧密的相互联系。美国政府单方面挑起贸易战,不仅会对世界各国经济产生冲击,也会损害美国自身利益。
Thanks to economic globalization, economies, particularly the larger ones, are highly interdependent. Ultimately, trade wars unilaterally initiated by the US administration will not only hurt other economies but also undermine US interests.
提高美国制造业成本,影响美国就业。彼得森国际经济研究所发布报告指出,95%被加征关税的中国商品是零配件与电子组件,它们被组装在"美国制造"的最终产品中,提高相关产品关税将损害美国企业自身(注78)。《纽约时报》称,中国生产的发动机及其他零部件对美造船企业至关重要,暂时无法找到替代品,造船企业利润空间基本不可能消化25%的关税成本,提高自身产品价格将失去市场份额(注79)。通用电气公司预测,美国对自中国进口商品加征关税将导致其成本上升3亿-4亿美元。通用汽车、福特及菲亚特-克莱斯勒等汽车制造商纷纷下调了全年利润预测(注80)。美国最大的铁钉制造商中洲公司表示,对进口钢铁加征关税致使其成本提升,产品价格被迫上涨,销售额预计将下降50%,公司经营面临较大冲击。今年6月,该公司已解雇了500名工人中的60名,并计划再解雇200名工人。中洲公司的困境还扩散到其下游的包装环节——与其合作的SEMO包装公司,由于业务缩减,已经开始裁员(注81)。彼得森国际经济研究所的评估指出,美国对进口汽车加征关税将导致美国减少19.5万个就业岗位,若受到其他国家报复性措施,就业岗位可能减少62.4万个(注82)。
It will push up manufacturing costs and affect American jobs. A PIIE report contends that since 95 percent of the Chinese products hit by higher tariffs are parts and electronic components used in end products made in the US, raising tariffs on these Chinese products will only damage US businesses. According to the New York Times, electric motors and other components from China are vital to the US boating industry, and it is not easy for importers to find substitutes. Their profit margins are too thin to absorb the cost of 25 percent tariffs, and raising prices would cost them market share. General Electric estimates that new tariffs on imports from China could raise its overall costs by US$300-400 million. General Motors, Ford Motor and Fiat Chrysler Automobiles have lowered their full-year profit forecasts due to escalating tariffs. Mid-Continent, the largest nail manufacturer in the US, said its sales would plummet by 50 percent after it raised prices to cope with its elevated steel costs, and that it laid off 60 of its 500 workers in June and planned to downsize by another 200. Mid-Continent's problems have already spread downstream. For example, Semo Packaging has started to shed its workforce as a result of fewer orders from Mid-Continent and similar customers. PIIE also projected that raising tariffs on imported automobiles would cause 195,000 US workers to lose their jobs. If other countries retaliate in kind, 624,000 US jobs would be lost.
导致美国国内物价上升,消费者福利受损。美国自中国进口产品中,消费品一直占很高比重。根据美国商务部经济分析局统计,2017年消费品(不包括食品和汽车)占中国对美出口的比重为46.6%。长期进口中国物美价廉的消费品是美国通胀率保持低位的重要因素之一。美国设备制造商协会在敦促美国政府不要实施损害经济的关税措施时指出,关税是对美国消费者的税收。美国国家纳税人联盟在2018年5月3日写给国会与总统的公开信中警告称,保护性关税将导致美国消费品价格上涨,伤害多数美国公民利益(注83)。美国汽车制造商联盟在6月提交给政府的一份文件称,其对2017年汽车销售数据的分析显示,对进口汽车征收25%的关税将导致平均价格上涨5800美元,这将使美国消费者每年的消费成本增加近450亿美元(注84)。
It will drive up prices in the US and harm consumers. Consumer goods account for a considerable share in the US imports from China. The figure (excluding food and automobiles) stood at 46.6 percent in 2017, according to the Bureau of Economic Analysis of the US Department of Commerce. For many years, the import of inexpensive yet quality products from China has been key to low inflation in the US. The US Association of Equipment Manufacturers has urged the administration not to levy economy-damaging tariffs, as they will only boomerang and increase the tax burden on US consumers. The US National Taxpayers Union warned in an open letter to Congress and President Trump on May 3, 2018 that higher protective duties would increase the prices which domestic consumers would have to pay and few people could hope to gain from such a change. The US Alliance of Automobile Manufacturers concluded in a June report to the government that based on its analysis of 2017 automobile sales figures, a 25 percent tariff on imported automobiles would drive up the average price by US$5,800, thus increasing the cost for US consumers by nearly US$45 billion every year.
引发贸易伙伴反制措施,反过来损害美国经济。美国政府向包括中国在内的很多重要贸易伙伴发动贸易战,已引发各贸易伙伴的反制措施,势必使美国一些地区、产业、企业承担大量损失。截至2018年7月底,包括中国、加拿大、墨西哥、俄罗斯、欧盟、土耳其在内的美国主要贸易伙伴均已宣布对其贸易保护主义措施实施反制,并相继通过世界贸易组织提起诉讼。例如,加拿大政府6月29日宣布,将从7月1日起,对价值约126亿美元从美国进口的商品加征关税。7月6日,俄罗斯经济部宣布将对部分美国商品加征25%-40%的关税。欧盟针对美国钢铝关税采取反制措施,将美国进口摩托车关税从6%提高至31%。
It triggers countermeasures from trading partners and will in turn hurt the US economy. The trade war waged by the US administration against China and many other important trading partners has led to countermeasures, and will cause huge losses to some regions, industries and firms in the US. As of the end of July 2018, major US trading partners including China, Canada, Mexico, Russia, the EU and Turkey had all announced countermeasures against US trade protectionism, and had filed lawsuits at the WTO. For example, the Canadian government announced on June 29 a tariff increase on US$12.6 billion of US goods, effective from July 1. The Russian Economy Ministry announced a 25 percent to 40 percent tariff hike on some US products on July 6. As a countermeasure to American duties on European steel and aluminum, the EU raised tariffs on US-made motorcycles from 6 percent to 31 percent.
美国商会指出,贸易战将导致美国相关州利益受损,得克萨斯州39亿美元的出口产品、南卡罗来纳州30亿美元的出口产品以及田纳西州14亿美元的出口产品或受到报复性关税打击(注85)。美国消费者选择研究中心称,美国政府实际上在用关税"惩罚"其选民,依赖出口的北卡罗来纳州超过15万个工作岗位、南卡罗来纳州6500名工人将受到报复性关税的直接影响(注86)。美国知名摩托车制造企业哈雷公司评估,欧盟的报复性关税措施将导致每辆销往欧洲的摩托车成本增加2200美元,会在2018年内给公司造成3000万至4500万美元的损失。为应对这一不利局面,哈雷公司已表示计划将部分摩托车制造产能转移出美国(注87)。
The US Chamber of Commerce has pointed out that a trade war will hit some American states. For example, Texas could see US$3.9 billion worth of exports targeted by retaliatory tariffs; South Carolina, US$3 billion and Tennessee, US$1.4 billion. The Consumer Choice Center stated that the US government is actually "punishing" American voters with the tariffs it introduced, as over 150,000 jobs in North Carolina and 6,500 workers in South Carolina, both being heavily export-dependent states, will be directly affected by the retaliatory duties. Harley-Davidson Inc., a famous American motorcycle maker, estimated that the EU's retaliation will cost about US$2,200 per motorcycle shipped to Europe, forecasting US$30 million to US$45 million in costs linked to the EU tariffs for the remainder of 2018. As a response, the company is shifting the production of some bikes overseas.
影响投资者对美国经济环境的信心,导致外国直接投资净流入降低。不断升级的经贸摩擦使企业信心不稳,在投资上持观望态度。彼得森国际经济研究所所长亚当·波森指出,美国政府的"经济民族主义"政策不仅使美国在贸易领域付出了代价,在投资领域引发的消极后果也开始显现。近期,美国及外国跨国公司在美投资数量几乎为零,企业投资方向转变将影响美国的长期收入增长和高收入就业岗位,并使全球企业加速远离美国。根据美国商务部经济分析局数据,2016年和2017年第一季度,美国外国直接投资流入额分别为1465亿美元和897亿美元,而2018年同期已降至513亿美元。这一变化是美国对长期投资吸引力下降的结果(注88)。
It erodes investors' confidence in the American economic environment and results in less net foreign direct investment (FDI) into the United States. As the trade friction escalates, companies feel less confident and more hesitant about investment. Adam S. Posen, President of the Peterson Institute for International Economics, argued that beyond the cost of the trade war, the US government's policy of "economic nationalism" has taken a toll in another important sphere: net inward investment into the US by multinational corporations – both foreign and American – has fallen almost to zero. This shift of corporate investment away from the US will decrease long-term US income growth, reduce the number of well-paid jobs available, and accelerate the shift of global commerce away from the US. Data from the Bureau of Economic Analysis of the US Department of Commerce show that in the first quarters of 2016 and 2017, the total net FDI inflow was US$146.5 billion and US$89.7 billion. For the same quarter in 2018, the figure was down to US$51.3 billion. This is a result of a general decline in the US attractiveness as a place to make long-term business commitments.
中国日报网英语点津版权说明:凡注明来源为"中国日报网英语点津:XXX(署名)"的原创作品,除与中国日报网签署英语点津内容授权协议的网站外,其他任何网站或单位未经允许不得非法盗链、转载和使用,违者必究。如需使用,请与010-84883561联系;凡本网注明"来源:XXX(非英语点津)"的作品,均转载自其它媒体,目的在于传播更多信息,其他媒体如需转载,请与稿件来源方联系,如产生任何问题与本网无关;本网所发布的歌曲、电影片段,版权归原作者所有,仅供学习与研究,如果侵权,请提供版权证明,以便尽快删除。