Bizarre money-saving tips published by website
金融危机仍未消退,你研究出最好的省钱之道来捂紧钱袋了吗?英国一家理财网站最近评出了省钱最怪的20种方法,从"把孩子送去朋友家喝茶"、"捡起每一枚拾到的硬币",到"自己酿酒"、"不要每次都冲厕所","出门时关掉门铃省电费",省钱怪招可谓五花八门,令人咂舌。
A list of some of the weirdest money-saving tips has been produced by a financial website (lovemoney.com) to mark the end of a year of recession.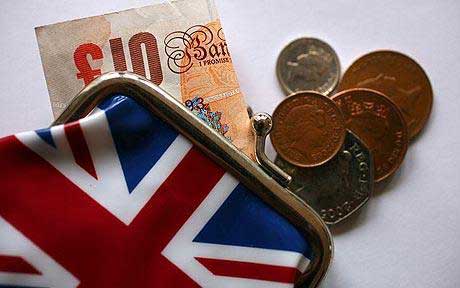 Top 20 tips:
1. Getting so worked up by an exciting article that blood pressure goes up thereby increasing body temperature and reducing the need for heating.
2. Use Parsley wine for its longevity because 'it still tastes like medicine after 15 years.
3. Send the kids round to friends' houses around dinnertime. The advice is that it works best if they practice acting hungry first.
4. Harvesting roadkill. Note when not to harvest: "...either due to excessive flatness or length of time it's been baking in the sun."
5. Pick up every coin you find. A couple who have spent the last 12 years picking up every coin they have ever found amassed £360,000.
6. Use your leftovers. Cut up used greetings cards and use the pieces to make new ones. With children going to a dozen parties every year it saves pounds.
7. Hang onto the outside of the bus.
8. Take a bath once a year and save GBP30. Do it with a friend and save double.
9.Roasted dandelion root is an excellent coffee substitute (and it's de-caf).
10. Brew your own beer and wine. You'll save money and you'll save on housing costs when you spend six months in rehab paid for by the NHS.
11. Maximise the cats potential. One reader 'whiteburn' apparently "trained one cat to sit on knee and other to drape itself round neck, saving on heating."
12. Choose parking carefully
"Choose the far empty corner of the car park, so you can drive in forwards and out forwards saving about, err, 5p?
13. Don't flush every time.
14. Save your wee in milk cartons, water down and use as a high nitrate fertiliser. Double save on fertiliser and water.
15. Move back home with the parents.
16. Save money on carpeting by gluing a square of carpet onto each shoe.
17. Use carpet cast offs.
One reader who followed the tip said 'The floor was multicoloured but looked great and was all done for free because my dad had gone round the carpet shops and asked for any they were throwing out."
18. Turn the thermostat down then save money by selling my freezer, boiler and radiators.
19. Holiday House swap.
Think this through as Louise600's circumstances may not be conducive: "I wonder if anyone will ever want a holiday swap to Huddersfield?"
20. If you're going out, turn your doorbell off to save on electricity bills.
相关阅读:
(Source: telegraph.co.uk,编辑:Julie)