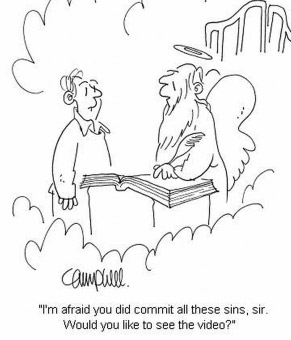 By Sophie Zhang
I've always said that I think religion is stupid and that it's the cause of so many problems. I look at so many devout Christians, Mormons, and Muslims who are convinced that their religions are the supreme way to live and turn their faiths into cults. While some see an additional benefit of going to church, that of joining a community, I think the social aspect of it is merely that: a social aspect. For religion truly to have meaning it needs to be personal. When it becomes an act of mindless uniformity and shallow thought, it loses all value. Although I have never followed a religion and have only attended church once in my life, I recognize that religion does not exist to be blindly followed. Religion, in its most basic element, cannot complete a human being. Otherwise, you degrade its very meaning when you deny it the value of your individuality and challenges. On the other hand, if you interpret religion as a mechanism to discriminate against others, such as the homosexuals or non-believers, you strip it of all meaning by letting it become an outlet for you to express your own dirty beliefs.
I think on a larger scale, religion is a means of conveying one's faith. I never realized the importance of faith, but after living nineteen years, I understand that it is perhaps faith that will allow me access to greater happiness and greater concentration. I don't know if I necessarily want to follow a specific religion—the idea of worshiping a god or "the" God still seems a little bit far-fetched to me. Or maybe my faith simply isn't strong enough for the time being to believe in something like that. I do believe in some sort of divine existence, a supreme being who has input in some aspects of life, but I wouldn't be so sure as to call that God. To me, humans try to control their own fate, but it is ultimately someone else who has control. There must be something responsible for the incidents science has yet to explain, but I'm reluctant to assign it a particular identity. I don't think I've accumulated enough knowledge to fulfill such a large task yet. But even if I don't want to necessarily be "religious" per se, I can still have faith. It was silly of me to previously equate the words "religion" and "faith." Faith is something much larger. Faith is believing. It's about confidence that can overcome any challenge, something that allows you to continue being a positive existence even when all of the forces of the universe tell you otherwise. Sometimes I wonder whether accumulated faith can have an actual, real impact on world events. The world was "supposed" to end on December 21st, 2012, but most believed it wouldn't. And it didn't. If we all theoretically knew that the Newtown shooting was going to happen in the near future, and we wished against it, would it perhaps not have occurred? Maybe. They say faith is a powerful thing.
In Life of Pi, the writer asks Pi if he really has a story that will "make you believe in God." After watching the film twice, I can't say that I believe in God yet. But I have reconsidered my thoughts regarding spirituality: the movie finally showed me that faith isn't something that is grounded in emptiness. True faith can be tested and challenged, but will always prevail. Perhaps if I can discover my own faith, I can achieve some sort of inner peace that I haven't yet found.
I'm not really sure where spirituality starts. I'm sure it doesn't randomly begin with just believing in God all of a sudden. Belief, I think, takes years to form, and once it forms, it needs to be tested in order to demonstrate its strength and validity.
I'm not sure what my first step will be. But regardless, I'm excited to begin this journey of finding something deeper within me that has perhaps been waiting these past nineteen years, waiting to be discovered and used.
(来源:英语学习杂志 编辑:丹妮)