影片简介: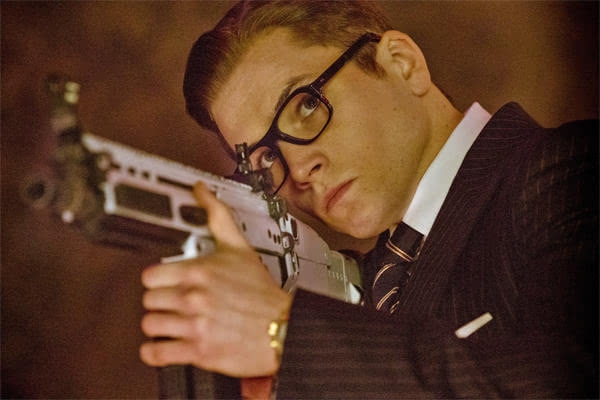 一个超级神秘的间谍组织——金士曼,要网罗有潜力年轻人加入,他们必须通过极具挑战的训练课程。一个普通的街头混混艾格西,因为父亲的关系得到了加入这个组织的机会。艾格西父亲的朋友哈利是金士曼的王牌特工,对艾格西的资质刮目相看,他希望艾格西能抓住这次改变人生的机会,要他去争取加入金士曼。
要加入这个精英间谍组织,艾格西必须通过一连串具挑战性又危险的考验,以证明具备王牌特工新血该有的所有能力,同时还必须克服在同侪中被边缘化的心理障碍,因为其他人都受过良好教育,有着丰富的人际关系且举止得宜。而在此同时,一名思想偏差的科技天才引发的全球性威胁正在蔓延,而艾格西迅速变成超级特工协助哈利阻止这场致命威胁 。
精彩词句学起来:
1. Limits must be tested. A Kingsman only condones the risking of a life to save another.
必须考验你们的底线。王牌特工救人时有时迫不得已只能以命换命。
2. I had such high hopes for you.You are a bloody disgrace.
我对你期望那么高,你真他妈把我脸都丢尽了。
3. Teamwork is paramount here at Kingsman.
王牌特工队中,团队精神至关重要。
4. Anybody willing to donate that much deserves a private dinner.
无论是谁,捐了那么多钱都值为他单独设宴接风。
5. But nothing beats two cheeseburgers with secret sauce.
但是没有什么比来俩芝士汉堡再搭配点秘制酱料更赞的了。
6. What a shame we both had to grow up.
可是我们俩都不得不长大,可惜啊。
7. I just had to come over and say "Amazing eyes". You wearing color contacts?
我想说你的眼睛真是漂亮,你带美瞳了么?
8. A word of advice: Ascot requires top hat.
一个小建议,阿斯科特赛马会要求戴大礼帽。
9. Sometimes a culling is the only way to ensure that this species survives.
有时择优汰劣是确保物种生存的唯一方式。
10. What the fuck is this?
这是什么鬼?
11. A bespoke suit always fits.
定做的总是合身的。
12. I just want to remind you that today is a day of celebration.
我想提醒一下你们,今天是一个喜庆的日子。
精彩对白欣赏:
1. Then we wouldn't be cannon fodder for snobs like you, judging people like me from your ivory towers. With no thought about why we do what we do. We ain't got much choice, you get me? And if we was born with the same silver spoon up our arses...we would do just as well as you, if not better.
2. Alright. My point is, the lack of a silver spoon has set you on a certain path, but you needn't stay on it. If you're prepare to adapt and learn, you can transform.
3. Since 1849, Kingsman Tailors have clothed the world's most powerful individuals. In 1919, a great number of them had lost their heirs to World War 1. That meant a lot of money going uninherited. And a lot of powerful men with a desire to preserve peace and protect life. Our founders realized that they could channel that wealth and influence for a greater good. And so began our adventure. An independent international intelligence agency operating at the highest level of discretion. Without the politics and bureaucracy...that undermine the integrity of government run spy organizations. A suit is the modern gentleman's armor. And the Kingsman agents are the new knights.
4. In a moment, you will each collect a body bag.You will write your name on that bag.You will write the details of your next of kin. On that bag. This represents your acknowledgement of the risks that you are about to face...as well as your agreement to strict confidentiality, which incidentally if you break...will result in you and your next of kin being in that bag. Is that understood?
精彩片段欣赏:
精彩片段对白:
Eggsy: "To pee or not to pee?"
Harry: That was the headline the day after I diffused a dirty bomb in Paris.
Eggsy: "Germany 1 - England 5."
Harry: I missed that game. I was breaking up an undercover spy ring at Pentagon. My first mission. I foiled the assassination of Margaret Thatcher.
Eggsy: Not everybody had thanked you for that one.
Harry: The point is, Eggsy, nobody thanked me for any of them. Front page news, and all these occasions were celebrity nonsense. Because it is the nature of Kingsman that our acheivements remain secret. A gentleman's name should appear in the newspaper only three times: When he's born, when he marries and when he dies. And we are, first and foremost, gentlemen.
Eggsy: Pretty fucked then. Its like Charlie said, I am just a pleb.
Harry: Nonsense. Being a gentleman has nothing to do with the circumstances of one's birth. Being a gentleman is something one learns.
Eggsy: Yeah, but how?
Harry: Alright, first lesson, you should have asked me before you took a seat. Second lesson, how to make a proper martini.
Eggsy: Yes, Harry.
Valentine: God damn it. It fucking hurts.
Gazelle: You are the one who asked for a biometric security system. What's wrong with a simple switch?
Valentine: A simple switch?This is an extremely dangerous machine. It should only be operated by someone responsible and sane as me. Bad shit can happen if it falls into the wrong hands. Are we done here? Shit.
Gazelle: No, now this one, for the test of the church.
Valentine: This one just has a short range. A simple switch will do.
Eggsy: So you gonna teach me how to talk proper like in 'My Fair Lady'?
Harry: That'd be absurd. Being a gentleman has nothing to do with one's accent. Its about being at ease in one's own skin. As Hemingway said:"There is nothing noble in being superior to your fellow man." "True nobility is being superior to your former self." Now, the first thing every gentleman needs is a good suit. By which I mean a bespoke suit. Never off the peg. And Kingsman suits are always bulletproof,So let's get you measured. And whether you get the job or not, you will have a lasting and useful memento of your time at Kingsman.
Waiter: I'm so sorry, sir, but a gentleman is completing his fitting. Fitting Room 2 is available.
Harry: One does not use Fitting room 2 when one is popping one's cherry. Perhaps I'll show you Fitting Room 3, while we wait.
Eggsy: So we going up or down?
Harry: Neither.
Eggsy: Is this it?
Harry: Of course not. Pull the hook on your left.
Eggsy: Ah yes...Very very nice.
Harry: You're going to need a pair of shoes to go with your suit. An Oxford is any formal shoes, with open lacing. This additional decorative piece is called broguing. "Oxford's, not brogue's." Words to live by, Eggsy. Words to live by. Try a pair. Your weapon scores are excellent, by the way. These you're familiar with. And this is our standard issue pistol. Its quite unique. As you all see it, it also fires a shotgun cartridge for use in messy close-range situations. How do they feel? Now do your very best in personation of a German aristocrat's formal greeting. No, Eggsy.
Eggsy: That is sick.
Harry: In the old days, they had a phone in the heel as well.
Eggsy: How do I get it back in?
Harry: It is coated with one of the fastest-acting neurotoxins known to man, so very carefully.
Eggsy: I had a lot of fun with this.
Harry: One of our finest examples of chemical engineering. Poison. Harmless when ingested. But at a time, convenient to you...it can be remotely activated. Primed. Lethal.
Eggsy: And what about these? What do these do? Electrocute you?
Harry: Don't be ridiculous. It's a hand grenade.
Eggsy: Shut up...
Harry: If you want to electrocute someone, you'll need a signet ring. A gentleman traditionally wears the signet on his left hand, but a Kingsman wears it on whatever hand happens to be dominant. If you touch the contact behind the ring, it delivers 50,000 volts.
Eggsy: And what about them? What makes them so special?
Harry: Nothing. That technology is caught up with the spy world. Put it back, Eggsy.
Waiter: Perfect timing. Gentleman's just finished.
(中国日报网英语点津 编辑 彭娜)