writer: Abdul Latheef
Since arriving in Beijing in February, everything about the city has amazed me, especially the helping mentality of its residents.
Strangers literally go out of their way to help, like walking with you to show the place you're looking for or to find the transfer train you can't find yourself.
They apologize to you for not knowing your language!
In a few weeks, I learned that all that I read on the internet about the people of Beijing was wrong.
They are courteous and kind. Even customer service at stores and government offices is generally good despite the language barrier.
With that in mind, I went to a post office to send a gift overseas.
There was no queue. The only other customer was a lady who had just finished her transaction.
A well-dressed man in his 30s looked at me from behind the counter and nodded. I moved forward and said I would like to send a parcel overseas.
I had not sealed the two items because I thought the agent might want to see them. I showed them to him and explained that they were a gift.
He looked at and felt them.
"OK, give me your passport," the man said.
Oops! I'd forgotten to take my passport with me.
I showed him my China Daily ID card, instead.
"That's not your passport," he said.
I opened my cellphone and showed him a scan of my Chinese visa.
"That's not your passport."
I showed him a scan of my Foreign Expert document.
"That's not your passport."
I showed him my Chinese bank card (issued after the vetting of countless documents).
"That's not your passport."
I showed him my foreign driver's licence.
"That's not your passport."
Just as I thought I had reached a dead end with this man, the lady who'd been watching us for the entire time, said, "Wait a minute."
She asked the agent what the big deal was.
"The customer has showed you so many documents, the items are open and you're still refusing to accept it."
"They are not his passport," he declared.
"Well in that case, I will send them for him under my address," the lady said in both English and Mandarin.
I was speechless. So was the man.
I thought why would she do that? She told me she didn't like the way he treated me.
So, I bought a new large envelope and put the items in it. The lady wrote her address in Mandarin on the envelope and gave her Chinese ID card to him. Within minutes the agent processed the transaction as if nothing happened.
I gave the lady a big hug.
A few weeks later, we met again at a coffee shop not far from the post office.
She told me she is a retired teacher, just as I thought she would be.
We also chatted about family, food, travel and the post office incident.
"That was a minor thing. Please don't exaggerate my help."
Once again, I was humbled by her humility.
(编辑:丹妮)
Broadcaster: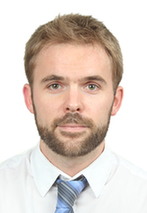 Greg Fountain is a copy editor and occasional presenter for China Daily. Before moving to Beijing in January, 2016 he worked for newspapers in the Middle East and UK. He has an M.A in Print Journalism from the University of Sheffield, a B.A in English and History from the University of Reading.