Writer: Craig McIntosh
I go through phases of wanting to get fit. Some days I'm more than happy with my "spare tire" – you could even say proud. As a child I remember being told that if someone calls you fat you should just push out your belly, slap it heartily and shout, "It's all paid for, pal."
Other times, though, I have this vision of being able to show off a six-pack at the beach, as opposed to just bringing a six-pack of beer to a pool party.
Don't get me wrong. I'm not averse to exercise; I really enjoy it. I play badminton and soccer, and at home I have free weights and a training mat, but my problem is discipline … as well as that magical cupboard in my apartment that fairies seem to fill with biscuits and chocolate while I sleep.
My wife sometimes forwards me stuff about fat-shaming fads, which seem popular here. I don't know whether she sends them to inspire or sicken, but after seeing all those selfies of Chinese women showing off "A4 stomachs" (covering their midriff with a bit of paper) or "100-yuan wrists" (wrapping a bill around their wrist) it certainly isn't the former.
A4 stomach? Right now, I'm not sure I'd get away with A3.
As I'm too miserly to fork out on a gym, I did the next best thing – began browsing the iPhone App Store for free fitness apps. Forget weights – that alone is exhausting. I didn't realize there was so much choice in health and fitness apps. There are thousands offering advice and tutorials, and most let you track your progress and share it with the world, should you be inclined. (I'm not.)
On further investigation, I shouldn't have been so surprised. According to analysis cited by Digital Trends, the value of the fitness app industry hit $4 billion in 2014 and is forecast to increase to $26 billion by 2017. That's a lot of sweaty dumbbells.
Eventually, after about two hours, I'd whittled my many options to three apps: one that offers lots of instructional videos and workouts; another that assigns a "virtual trainer" who regularly sends motivational texts and emails; and one that is meant to motivate you into running or walking faster by having you imagine you're being chased by hordes of zombies.
Many weeks on, I've watched one instructional video on the first app, ignored countless "you can do it" emails from the second (I think they now just go straight to my spam folder), and I've been chased by the undead through my local park once (it was OK, but screaming while running hurt my throat).
The good news, however, is that I've taken Hartlepool United from the bottom league to European success on FIFA 16, won the masters on Tiger Woods PGA Tour, and done the Grand Slam on Top Spin.
After all that, I deserve a rest.
(编辑:丹妮)
Broadcaster: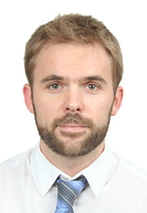 Greg Fountain is a copy editor and occasional presenter for China Daily. Before moving to Beijing in January, 2016 he worked for newspapers in the Middle East and UK. He has an M.A in Print Journalism from the University of Sheffield, a B.A in English and History from the University of Reading.