王毅谈2021年中国外交工作重点(双语全文)
新华网 2021-01-04 10:23
分享到微信 近日,国务委员兼外交部长王毅接受新华社和中央广播电视总台联合采访,介绍2021年中国外交工作重点。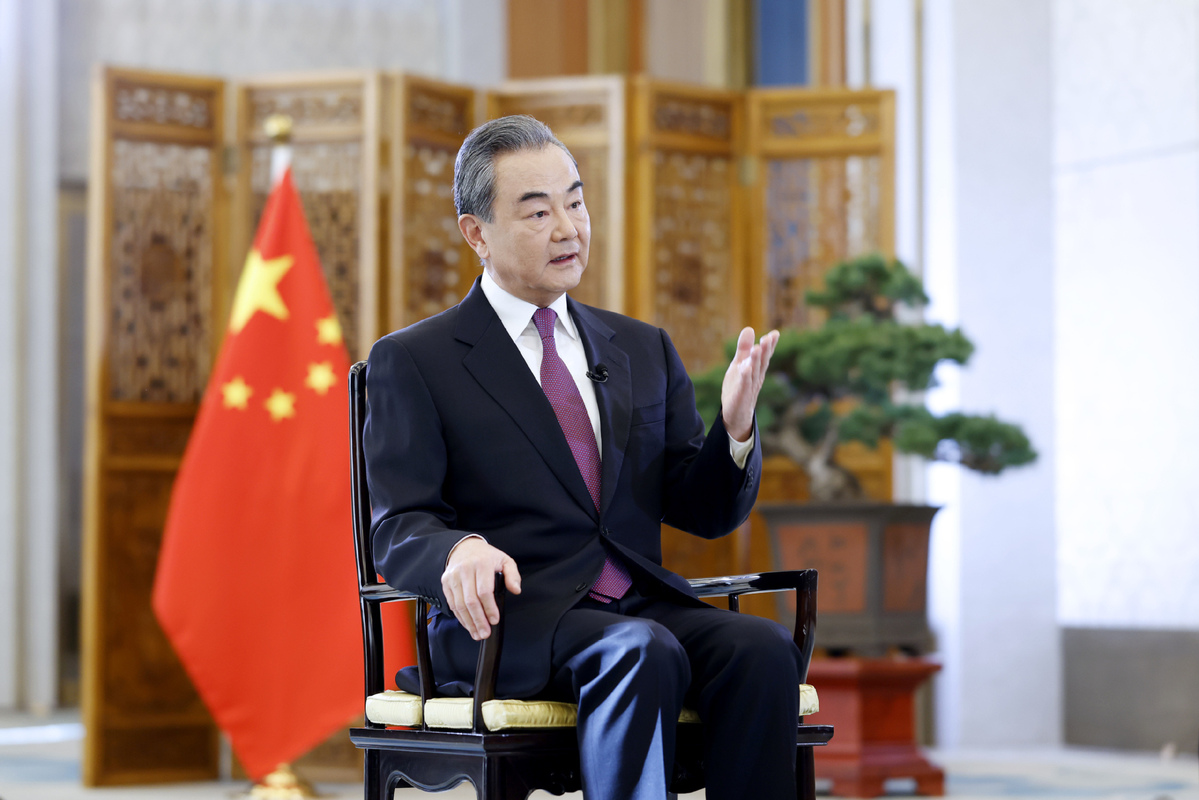 全文如下:
记者:2020年,突如其来的新冠肺炎疫情给全世界带来了前所未有的冲击,您如何看待这一年的国际形势和外交工作?
Question: COVID-19 hit the world with unprecedented impact. What is your assessment of the international situation and China's diplomacy in 2020?

王毅:2020年,无论对世界还是中国,都是极不平凡的一年。环顾全球,突如其来的疫情加快了百年变局的演进,世界进入动荡变革期。疫情蔓延、经济衰退、治理困境是摆在人类社会面前的突出挑战,单边主义、保护主义、强权政治成为阻挠国际合作的主要障碍。与此同时,这场疫情也使各国人民对休戚与共、同舟共济的认知更为深刻,人类命运共同体的理念日益深入人心。要团结不要分裂、要开放不要封闭、要合作不要对抗日益成为国际社会的共同选择。
Wang Yi: It has been an extraordinary year for China and the world. The sudden onslaught of COVID-19 has accelerated the once-in-a-century transformation in an increasingly fluid and changing world. The devastating virus, economic recession and governance difficulties are clear challenges facing humanity. On the other hand, unilateralism, protectionism and power politics are standing in the way of international cooperation. People across the world have increasingly come to see that all countries share a common stake and need to stand together in the face of difficulties. The vision of a community with a shared future for mankind thus enjoys stronger support. More and more members of the international community now choose solidarity over division, openness over isolation and cooperation over confrontation.

放眼国内,以习近平同志为核心的党中央带领全国人民万众一心,众志成城,取得了抗疫斗争重大战略成果,三大攻坚战取得决定性成就,全面建成小康社会胜利在望。党的十九届五中全会擘画了未来发展的宏伟蓝图,为实现中华民族伟大复兴锚定了前进方向。中国人民的团结奋斗令全球瞩目,中国发展的韧性活力得到世界认可。
Here in China, the CPC Central Committee with Comrade Xi Jinping at its core has rallied the nation behind a common purpose, and secured major strategic gains in the fight against COVID-19. We have also scored decisive successes in the three critical battles against poverty, pollution and potential risks. The whole country is on course to fully build a moderately prosperous society. The recent Fifth Plenary Session of the 19th CPC Central Committee set a great vision for China's development in the coming years and charted the course for national rejuvenation. The unity and perseverance of the Chinese people have impressed the world. The resilience and dynamism of China's development have won global recognition.

2020年,对于中国外交而言,是迎难而上、负重前行的一年。外交战线在以习近平同志为核心的党中央坚强领导下,认真学习贯彻习近平外交思想,科学统筹国内国际两个大局,以元首外交为引领,以抗疫合作为主线,主动为国家担当,积极对世界尽责,同步抗击新冠肺炎病毒和国际政治病毒,为捍卫国家利益、维护全球稳定作出了不懈努力。
In 2020, we in the foreign service have forged ahead and tackled the challenges head on. Under the strong leadership of the CPC Central Committee with Comrade Xi Jinping at its core and following Xi Jinping Thought on Diplomacy, we have advanced China's foreign relations by taking into account both domestic needs and the international context. Guided by President Xi's leadership and personal engagement and focusing on forging a joint response to COVID-19, we have worked tirelessly to serve the country and contribute to the world. Fighting the coronavirus and the "political virus" at the same time, we have done our best to safeguard national interests and global stability.
我们严守疫情防控"国门关",全力服务国内抗疫和复工复产,积极开展海外公民保护救助,创造性开设人员往来"快捷通道"、货物运输"绿色通道",保障产业链供应链稳定畅通,为全面建成小康社会尽心尽责。
We have built a strong defense against the virus at our borders. We have made utmost efforts to facilitate COVID-19 response and safe reopening of economy at home, and provide consular assistance and protection to Chinese nationals abroad. We piloted "fast tracks" and "green lanes" to speed up the flow of essential personnel and goods, and helped keep industrial and supply chains stable and open, contributing to the full establishment of a moderately prosperous society in China.
我们共筑国际抗疫"防火墙",积极参与国际抗疫合作,发起了新中国成立以来规模最大的全球紧急人道主义行动,汇聚团结抗疫重要共识,为构建人类卫生健康共同体作出贡献。
We have helped erect an international bulwark against the coronavirus. Having actively engaged in the international response to COVID-19, China launched an emergency global humanitarian campaign of a scale unseen since the founding of the People's Republic in 1949, and helped build consensus on a global response to COVID-19, contributing to the building of a global community of health for all.
我们壮大外交关系"朋友圈",不断深化同各国友好合作,积极运筹大国关系,推动周边命运共同体走深走实,维护拓展发展中国家共同利益,积极推进新型国际关系的建设。
We have made more friends in the world. China has deepened friendship and cooperation with all countries, making active efforts to develop relations with major powers, achieving solid progress in building a community with a shared future with neighbors, protecting and advancing the shared interests of the developing world, and working for a new type of international relations.
我们释放对外开放"新红利",签署区域全面经济伙伴关系协定(RCEP),完成中欧投资协定谈判,积极推进高质量共建"一带一路",拓展健康丝路、绿色丝路、数字丝路新愿景,为全球经济复苏注入关键动力。
We have shared benefits generated by China's opening-up with the world. China has signed the Regional Comprehensive Economic Partnership (RCEP) and concluded negotiations on a China-EU investment agreement. We have vigorously advanced high-quality Belt and Road cooperation, and highlighted public health, green development and digital transformation in advancing the Belt and Road Initiative. All these efforts have injected much needed impetus into the global recovery.
我们打好国家利益"保卫战",坚定理性回击美方的无理打压,在涉台、涉港、涉疆、涉藏等问题上开展有理有利有节斗争,打赢了一场又一场多边硬仗,有力维护了国家主权、民族尊严和发展权益。
We have been firm in safeguarding our national interests. We have responded resolutely and rationally to unjustified moves by the United States. We have handled issues relating to Taiwan, Hong Kong, Xinjiang and Tibet with justified, strong and proportionate countermeasures and won one fierce battle after another in international organizations, vigorously safeguarding China's sovereignty, dignity and development interests.
我们担当多边合作"领头羊",高举多边主义旗帜,支持应对气候变化国际合作,宣布碳达峰、碳中和国家自主贡献新目标,提出《全球数据安全倡议》,主动引领全球治理体系的变革。
We have spearheaded multilateral cooperation. Unswerving in advocating multilateralism, China has supported international cooperation on climate change. We have announced our ambitious goal to peak carbon dioxide emissions and achieve carbon neutrality in the upgraded Nationally Determined Contributions. We have put forward a Global Initiative on Data Security to advance the reform of the global governance system.
沧海横流,方显英雄本色。我们坚信,在中国人民和各国人民共同努力下,疫情一定会被战胜,危机一定会被克服,人类必将取得最终的胜利。我们坚信,一个走向复兴、充满机遇、开放合作的中国,也将为世界的和平与发展作出新的贡献。
In challenging times like this, one's mettle is tested. We are confident that through concerted efforts, the people in China and across the world will prevail over the virus, end the crisis and win an ultimate victory. China, on course toward national rejuvenation, is generating global opportunities and embracing openness and cooperation. We will make greater contributions to world peace and development.

记者:疫情期间,"云外交"成为各国交往的主要形式,尤其是习近平主席多次以"线上"方式同外国政要和国际组织领导人举行会晤并出席重要国际会议。请问"云外交"在2020年中国外交中发挥了怎样的作用?
Question: The pandemic has made "cloud diplomacy" a major form of interactions between countries. Through this virtual platform, President Xi Jinping has communicated with many foreign leaders and heads of international organizations and attended multiple important international conferences. What role has "cloud diplomacy" played in China's foreign relations in 2020?
王毅:突如其来的新冠肺炎疫情为各国线下交往按下了"暂停键",但中国外交面对困难没有止步、面对挑战没有后退、面对重大议题没有失声。
Wang Yi: COVID-19, which caught everyone by surprise, has hit the "pause" button on face-to-face interactions between countries. But China's diplomacy has not paused in the face of the difficulties. We have neither shied away from any challenges, nor fallen silent on any major issues.
其中最大的亮点就是元首"云外交"。元首外交是中国外交的最高形式,始终是中国外交的指南针。2020年,习近平主席亲自设计、亲自指挥、亲力亲为,以"云外交"的方式同外国领导人和国际组织负责人会晤、通话87次,出席22场重要双多边活动。
The biggest highlight in China's foreign relations has been the "cloud diplomacy" conducted at the head-of-state level. Summit diplomacy, which is the highest form of diplomacy, has been the compass guiding China's external relations. In 2020, President Xi Jinping personally planned, oversaw and engaged in "cloud diplomacy", having 87 meetings and phone calls with foreign leaders and heads of international organizations and attending 22 important bilateral or multilateral events.
通过"云外交",习近平主席为国际抗疫树立了团结的旗帜。在全球抗疫的关键时刻,习主席明确指出,病毒没有国界,疫病不分种族,人类是命运共同体,团结合作是战胜疫情最有力的武器。强调要秉持科学精神,推进国际联防联控和疫苗合作,共同构筑全球抗疫防火墙,共同反对政治化、污名化,为国际抗疫合作汇聚了力量。
Through "cloud diplomacy", President Xi Jinping has championed solidarity in the world's fight against COVID-19. At the height of this global battle, President Xi sent out this clear message: virus respects no borders and disease doesn't distinguish between races; humankind is a community with a shared future; solidarity and cooperation is the most powerful weapon to defeat the virus. Advocating science-based response, he called for joint efforts to enhance global prevention and control, develop vaccines, build a strong line of defense against the virus, and oppose politicization and stigmatization. This has helped galvanize international anti-COVID-19 cooperation.

通过"云外交",习近平主席为世界经济复苏注入了强劲的信心。面对濒临衰退的世界经济,习主席结合中国统筹疫情防控和经济社会发展的有益实践,提出畅通世界经济运行脉络、发挥数字经济推动作用、实现更加包容普惠发展、推动构建开放型世界经济等一系列破解之策,为世界经济走出阴霾带来了希望。
Through "cloud diplomacy", President Xi Jinping has boosted confidence in world economic recovery. As the world economy slid toward recession, President Xi offered a series of proposals in light of China's experience in coordinating pandemic response and economic and social development, including maintaining the smooth functioning of the world economy, leveraging the digital economy, making development more inclusive and beneficial for all, and building an open world economy. This has brought hope for the world economy to step out of the doldrums.
通过"云外交",习近平主席为全球治理体系改革指出了清晰的方向。面对全球治理遭受的严峻冲击,习主席站立时代潮头,全面系统阐述了中国共商共建共享的全球治理观,旗帜鲜明表达了中国坚定奉行多边主义的原则立场,推动全球治理朝着更加公正合理的方向不断迈进。
Through "cloud diplomacy", President Xi Jinping has pointed the way forward for reforming the global governance system. As global governance was severely impacted, President Xi, with his keen grasp of the trend of the times, laid out China's vision for global governance featuring extensive consultation, joint contribution and shared benefits, and articulated China's unequivocal commitment to multilateralism and to fairer and more equitable global governance.
可以说,"云外交"展现了中国外交的担当、贡献了中国外交的智慧,也拓展了中国外交的维度。
All in all, with "cloud diplomacy", China has demonstrated its sense of responsibility, contributed its wisdom and expanded the ways it conducts foreign relations.

记者:中国如何参与和支持国际抗疫合作,做了哪些工作?
Question: How has China contributed to and supported the global COVID-19 response?
王毅:病毒是人类的共同敌人,抗疫是国际社会的共同责任。面对这场全球性公共卫生危机,中国从一开始就积极倡导国际抗疫合作,同各国携手抗击疫情,以实际行动践行人类命运共同体的理念。
Wang Yi: The coronavirus is a common enemy of humanity. To defeat it is the shared responsibility of the international community. Facing this global health crisis, China has called for global cooperation since the start and worked with other countries to fight the pandemic, giving meaning to the vision of a community with a shared future for mankind.
中国参与和支持全球抗疫,可以用六个"最"来概括。
China's contributions and support to the global response are best seen in the following six respects:
我们与时间赛跑,最早向世界报告疫情。越来越多的研究表明,疫情很可能是全球多地多点暴发。面对未知的新冠病毒,中方第一时间展开流行病学调查,第一时间确定病原体,第一时间公布病毒基因序列等关键信息,为全球抗疫拉响了警报。
We raced against time and were the first country to report cases to the world. More and more research suggests that the pandemic was likely to have been caused by separate outbreaks in multiple places in the world. When hit by an unknown coronavirus, China took immediate actions to carry out epidemiological investigation, identify the pathogen and publicize key information including the genome sequencing of the virus. All this sounded alarm bells across the world.
我们与病毒斗争,采取了最"硬核"的防控措施,坚持人民至上、生命至上,在最短时间内有效控制了国内疫情,有序恢复了经济社会发展,率先筑起了全球抗疫的牢固防线。
We took the most rigorous control measures to fight the virus. Putting people and life first, we effectively controlled the virus within the shortest possible time, and steadily resumed economic and social activities in our country. We made an early contribution to building a strong global line of defense against the virus.
我们以科技护航,开展了最大规模的"云上"抗疫交流,组织了上百场跨国视频专家会议,开设了向所有国家开放的新冠疫情防控网上知识中心,迄今已发布8版诊疗方案、7版防控方案,毫无保留地与各国分享抗疫经验。
We conducted the largest-scale online exchanges on epidemic response with the support of science and technology. We organized over 100 video meetings with experts from other countries, opened an online knowledge center to share China's experiences with all countries, and published eight updated versions of diagnosis and therapeutic solutions and seven updated versions of prevention and control protocols. We shared our experience with other countries without any reservation.
我们雪中送炭,发起了新中国历史上规模最大的全球紧急人道主义行动,向150多个国家和10个国际组织提供抗疫援助,向有需要的34个国家派出36支医疗专家组,向世卫组织和联合国相关机制提供资金援助,同各国人民风雨同舟,共克时艰。
We provided urgently needed assistance by launching the largest global emergency humanitarian campaign since the founding of New China. We provided assistance to over 150 countries and 10 international organizations, sent 36 medical teams to 34 countries in need and provided funding to WHO and other relevant UN agencies. We stood with other countries and peoples to help them prevail over the virus.
我们尽力尽责,发挥了最大医疗物资产能国优势,迄今已经向各国提供了2200多亿只口罩、22.5亿件防护服、10.2亿份检测试剂盒。"中国制造"成为全球抗疫斗争源源不断的"补给线"。
We did our best as the largest manufacturer of medical supplies. We provided countries around the world with over 220 billion masks, 2.25 billion protective suits and over 1 billion testing kits. "Made in China" products became a key source of supply for the global fight against the pandemic.
我们担当道义,最早承诺将疫苗作为全球公共产品,致力于让发展中国家用得上、用得起疫苗,积极推进药物、疫苗研发合作,为饱受疫情之苦的发展中国家带来希望。
We were the first to pledge to make vaccines a global public good, bearing in mind the greater good of humanity. To help other developing countries access affordable vaccines, we engaged in active collaboration on the R&D of drugs and vaccines, which brings hope to heavily-hit developing countries.
当前,全球疫情远未结束,团结抗疫不能松懈。中国将继续坚定不移推进抗疫国际合作,同各国加强联防联控,继续向有需要的国家和地区提供力所能及的帮助,直到全球彻底战胜疫情。
As the pandemic is far from over, we must never slacken our joint response. China will continue to advance global cooperation on epidemic response, strengthen joint prevention and control, and assist countries and regions in need. We will never slacken such efforts until humanity secures a final victory against COVID-19.
中国日报网英语点津版权说明:凡注明来源为"中国日报网英语点津:XXX(署名)"的原创作品,除与中国日报网签署英语点津内容授权协议的网站外,其他任何网站或单位未经允许不得非法盗链、转载和使用,违者必究。如需使用,请与010-84883561联系;凡本网注明"来源:XXX(非英语点津)"的作品,均转载自其它媒体,目的在于传播更多信息,其他媒体如需转载,请与稿件来源方联系,如产生任何问题与本网无关;本网所发布的歌曲、电影片段,版权归原作者所有,仅供学习与研究,如果侵权,请提供版权证明,以便尽快删除。