Golden goose? 金鹅
中国日报网 2021-03-26 13:24
分享到微信 Reader question:
Please explain this sentence: "You've got a golden goose and you'd better manage it well." What's "golden goose"?

My comments:
Golden goose represents any money making business that's forthcoming steadily and endlessly.
Seemingly endlessly, that is. Seemingly so.
In our example, the speaker is talking about something that makes money on a steady basis and, therefore, warns the listener that he'd better learn to manage it well. He'd better not to mismanage it and potentially lose it as a consequence.
That's the idea.
At least that's the original idea of the golden goose.
The golden goose, in folk lore, is the goose that lays a golden egg each day. According to legend, the owner of the goose eventually got greedy and killed the goose in order to have at once all the gold eggs the goose has in her belly.
Needless to say, the owner doesn't find any golden eggs. To compound the problem, the owner loses the golden goose once and for all. The dead goose no longer produces a golden egg for its stupid owner per day every day from now on henceforth.
Hence, and therefore, he who has the proverbial golden goose should learn to keep it.
Right?
Right. All right, here are media examples of the proverbial golden goose in the media:

1. A woman convicted of killing an elderly man she was taking care of, then draining his bank accounts, was sentenced to life in prison in a San Diego courtroom Friday.
Denise Michelle Goodwin, 47, will spend the rest of her life in prison for the 2011 murder of 89-year-old Gerald Rabourn, despite prosecutors seeking the death penalty.
Rabourn, who trusted Goodwin with his money after she cared for his late wife, went missing in 2011 and his body was never found. The district attorney's office said Goodwin took everything he had, then murdered him to avoid being found out.
Although Rabourn's body was never found, she was convicted in October of first-degree murder and murder for financial gain.
Defense attorneys argued during the trial that enough evidence was present to prove Goodwin had made off with Rabourn's money, but not enough to say she killed him.
"She's a thief disguised as a churchgoer; she's a killer disguised as a caregiver," Deputy District Attorney Bill Mitchell told the judge before the sentencing.
Prosecutors said Goodwin targeted rich old men with no close family and described the case as especially shocking and compelling.
"Gerald Rabourn was sucked in and taken to the cleaners," Mitchell told jurors. "[Goodwin] had found her golden goose. He thought she was wonderful. He thought he was getting something for nothing. When it came to his money, he wanted to keep it."
- Caretaker Gets Life in Prison for Murdering, Embezzling Elderly Man, NBCSanDiego.com, January 30, 2015.

2. The lame-duck thinks he's a golden goose.
Still in denial over losing last week's election by more than five million votes, President Trump is lashing out at Fox News and retweeting those who follow his lead.
"Fox News daytime ratings have completely collapsed," he claimed Thursday morning. "Weekend daytime even WORSE."
The president doesn't cite statistics or reporting to support his claim. Fox News was in fact the nation's most-watched cable news network in the months leading up to the election, according to Nielsen ratings. USA Today reports that CNN topped Fox News the week of the election, though Fox had a bigger Election Day.
"Very sad to watch this happen, but they forgot what made them successful, what got them there," he added anyway. "They forgot the Golden Goose."
While morning show Fox & Friends and Fox News' prime time line-up get high-marks from Trump, the president isn't always pleased with cable news channel's programming in-between.
Most recently, Fox host Neil Cavuto upset Trump supporters by cutting away from an address from White House press secretary Kayleigh McEnany after she made baseless allegations about the president's opponents "welcoming" election fraud. Trump supporters were also upset at Fox News for calling the state of Arizona in Democrat Joe Biden's favor on Election night, though the race is tight and ballots are still being counted.
"The biggest difference between the 2016 Election, and 2020, was Fox News!" the president concluded in his tweet without further explanation.
Trump retweeted loyalists who've throughout the week said they were turning the channel to far right-wing networks OANN and Newsmax, where the news is always good for the president.
"Fox has been completely unfair and untruthful. Moving to Newsmax," tweeted Trump supporter Ryan. K McCormack, whose sentiments were shared by the president Thursday.
- Trump is mad at Fox News again: 'They forgot the Golden Goose', NYDailyNews.com, November 12, 2020.

3. Andy Jassy, the incoming CEO of Amazon, is well known to Wall Street. But most Americans who don't run an online business likely know nothing about the executive who runs the company's cloud-computing service, an increasingly important business for the e-commerce titan.
Jassy, 53, is a longtime Amazonian, having joined the company in 1997. Here's what you need to know about the Harvard Business School grad and what his elevation means for Amazon.
Jassy heads AWS (formerly known as Amazon Web Services), which he helped build from the ground up starting in the late 1990s. AWS is the most profitable division of the e-commerce giant, and Jassy's promotion to CEO underscores the importance of cloud computing to the company.
"This is a division that has been essentially the golden goose. Even though it only makes up 12% of revenues, in any given quarter it contributes at least half or two-thirds of its profit," said Tuna Amobi, analyst at CFRA. Last year, AWS brought in $11 billion, more than half of Amazon's $21 billion in earnings.
Before AWS became AWS — a crucial part of today's internet, providing cloud hosting services to companies from Netflix to Capital One to Verizon FIOS — it was the foundation of internal systems built by Amazon that enabled the company's e-commerce platform to dominate.
"AWS supports a lot of the back-end infrastructure that has made [Amazon's] retail business dominant over the years," said Nick Shields, analyst at Third Bridge, a research and consulting agency. "What became AWS is storage and analytics that they built to support the core retail business so they could do more personalization, gather customer data and so forth. AWS is very critical to the success of the core business."
Jassy has been at Amazon almost as long as founder Jeff Bezos. Jassy joined the company immediately after graduating from Harvard Business School.
"I took my last final exam at [Harvard Business School] the first Friday of May in 1997 and I started Amazon next Monday," he said last fall, according to the Daily Mail. "No, I didn't know what my job was going to be, or what my title was going to be. It was super important to the Amazon people that we come that Monday."
- Who is Andy Jassy, the longtime Amazon executive set to become its new CEO? CBSNews.com, February 4, 2021.
本文仅代表作者本人观点,与本网立场无关。欢迎大家讨论学术问题,尊重他人,禁止人身攻击和发布一切违反国家现行法律法规的内容。
About the author: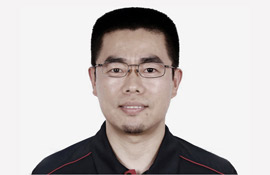 Zhang Xin is Trainer at chinadaily.com.cn. He has been with China Daily since 1988, when he graduated from Beijing Foreign Studies University. Write him at: zhangxin@chinadaily.com.cn, or raise a question for potential use in a future column.
(作者:张欣 编辑:丹妮)
中国日报网英语点津版权说明:凡注明来源为"中国日报网英语点津:XXX(署名)"的原创作品,除与中国日报网签署英语点津内容授权协议的网站外,其他任何网站或单位未经允许不得非法盗链、转载和使用,违者必究。如需使用,请与010-84883561联系;凡本网注明"来源:XXX(非英语点津)"的作品,均转载自其它媒体,目的在于传播更多信息,其他媒体如需转载,请与稿件来源方联系,如产生任何问题与本网无关;本网所发布的歌曲、电影片段,版权归原作者所有,仅供学习与研究,如果侵权,请提供版权证明,以便尽快删除。