Stop gap? 权宜之计
中国日报网 2021-07-20 13:18
分享到微信 Reader question:
Please explain "stop gap", as in: Odom was the perfect stop gap coach.

My comments:
Odom, whoever that is, was considered the perfect coach for the team – for the time being.
For the time being, or temporarily, as an emergency solution.
Stopgap, in other words.
Stopgap, or stop-gap, literally means stop a gap, gap being, for example, a hole in a pipe.
You spot a little hole in the water pipe, say, in the garden. You go and fetch a roll of tape. You turn off the water and wrap some tape around the leaking hole. You turn on the water again. Water still leaks from the hole in the pipe but this time, only a little bit. The problem is not as serious as it was.
You still want to fix the pipe later on, maybe even buy a new one but for the moment, the tape works. Problem solved.
In this case, the tape works as a stop-gap measure. It temporarily plugs the hole, so to speak, and blocks the leaking water from flowing freely.
In our coaching example, Odom serves as such a stop-gap measure. And he's the perfect one, perhaps for knowing the players well and for having been around the team for a long time. Obviously the old coach was let go – due to poor results or due to differences with, say, the owner of the club over how the team should have been run. For the time being, Odom was named as interim coach, a temporary one until a permanent coach is found.
For the time being, Odom serves as a stop-gap, as a temporary solution. For the time being, Odom fixes the problem, to a degree.
To a degree, because Odom is perhaps not good enough. Otherwise, they would have given him the job as coach.
In other words, they're still in search for that person. They still need a new regular coach for the team to be wholesome once again.
All right?
All right, here are media examples of "stop-gap" as adjective:

1. The House easily passed a temporary government-wide funding bill Tuesday evening in a bipartisan effort to keep the government running through the beginning of December.
The House voted 359-57 to approve the stop gap measure that will keep the government open through December 11. 56 Republicans and Rep. Justin Amash, I-Mich. voted against the measure, while Rep. Alexandria Ocasio-Cortez, D-N.Y., voted present.
Agreement on the bill came after considerable behind-the-scenes battling over proposed add-ons. The final agreement gives the administration continued immediate authority to dole out Agriculture Department subsidies in the run-up to Election Day. House Speaker Nancy Pelosi, D-Calif., retreated from an initial draft that sparked a furor with Republicans and farm-state Democrats.
Instead, in talks Tuesday, Pelosi restored a farm aid funding patch sought by the administration, which has sparked the ire of Democrats who said it plays political favorites as it gives out bailout money to farmers and ranchers.
In return, Pelosi won COVID-related food aid for the poor, including a higher food benefit for families whose children are unable to receive free or reduced lunches because schools are closed over the coronavirus. Another add-on would permit states to remove hurdles to food stamps and nutrition aid to low-income mothers that are more difficult to clear during the pandemic.
The deal permitted the measure to speed through the House after a swift debate that should ensure smooth sailing in the GOP-held Senate before next Wednesday's deadline. There's no appetite on either side for a government shutdown.
The measure is the bare minimum accomplishment for Capitol Hill's powerful Appropriations committees, who pride themselves on their deal-making abilities despite gridlock in other corners of Congress. It came after bipartisan negotiations on a huge COVID-19 relief package imploded and appear unlikely to be rekindled — especially since the death of Supreme Court Justice Ruth Bader Ginsburg has upended U.S. politics.
"We need to keep the government open but we also need additional COVID relief for the American people," said Rep. Debbie Wasserman Schultz, D-Fla.
- House approves spending bill in effort to avoid government shutdown during pandemic, FoxNews.com, September 22, 2020.

2. The government has announced 10,000 working holiday-makers and seasonal staff can get visa extensions, but some say the numbers are a drop in the ocean and come too late - 11 days before visas are starting to expire.
Migrants on Working Holiday and Supplementary Seasonal Employment visas due to expire between 21 June and the end of December will have their visas automatically extended for six months.
Business NZ welcomed the change, which included another deferral of the three-year stand-down period for lower-paid workers and border exemptions for the dairy industry.
The horticulture sector said the visa extensions could help stop the bleed of workers to Australia but it still needs more staff. Horticulture New Zealand's chief executive said just a quarter of the usual number of backpackers - a key workforce - were in the country.
And the Restaurant Association said it was not enough to keep some businesses afloat, and the government's 'ideological-based policy' had left businesses in a situation that was 'beyond critical'.
It said most overseas workers were not on the two visas which have been extended. Estimates suggest the change will help 7 percent of current temporary workers.
Immigration Minister Kris Faafoi told RNZ the extension would give businesses certainty and put the minds of visa holders at ease. Existing Seasonal Employment visa-holders can now also pick up work in any industry, not just horticulture or viticulture.
But Immigration lawyer Mike McMellon said the announcement, less than a fortnight before visas started to expire, did not create certainty. Similar announcements and decisions have been made on visa extensions, including one for essential skills visas days before Christmas for visas which ran out from New Year's Day.
Last-minute announcements made it very difficult for employers and migrants to plan and some workers would have packed their bags for Australia or other countries, McMellon said.
"This announcement does not provide certainty for anyone," he said. "It is a stop-gap response. The late notice means many migrants will have by this time have taken steps to leave New Zealand. They may have quit their jobs, sold possessions and given up their accommodation."
- Work Visa changes: Too little, too late say associations, as last minute call doesn't benefit businesses or workers, NZHerald.co.nz, June 12, 2021.

3. Mistakes are bound to happen each offseason when it comes to free agency. Draft picks are muffled, contracts never meet expectations and players that are declining continue to earn to top dollar.
What was the Washington Football Team's biggest mistake? Compared to other teams, their lone flaw might be nothing more than blemish in a crisp, clear offseason.
Washington elected not to draft a quarterback despite playing four different players under center last season. The biggest move to fix the game's most important position? Ryan Fitzpatrick.
The 38-year-old journeyman signed a one-year deal worth $10 million. Coming off a strong season in Miami, WFT head coach Ron Rivera hopes that this season, the grizzled veteran's influence will be enough to improve the 7-9 finish from 2020.
Of course, Fitzpatrick was the stop-gap option rather than long-term answer. Washington was highly interested in Detroit Lions' starter Matthew Stafford. The two had ties together thanks to the addition of new GM Martin Mayhew, who selected the 32-year-old gunslinger No. 1 overall in 2009.
Instead, it was the Los Angeles Rams who won the Stafford sweepstakes, trading away two first-round picks and Jared Goff to the Motor City franchise.
There's no denying that Fitzpatrick can work in offensive coordinator Scott Turner's offense. Unlike in Miami, the offensive line should be stable. The overall arsenal should be good, be better than what he was working with in South Beach.
- What Was The Washington Football Team's Worst Offseason Move? SI.com, July 13, 2021.
本文仅代表作者本人观点,与本网立场无关。欢迎大家讨论学术问题,尊重他人,禁止人身攻击和发布一切违反国家现行法律法规的内容。
About the author: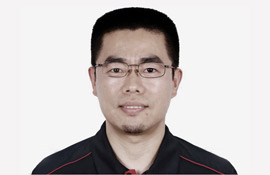 Zhang Xin is Trainer at chinadaily.com.cn. He has been with China Daily since 1988, when he graduated from Beijing Foreign Studies University. Write him at: zhangxin@chinadaily.com.cn, or raise a question for potential use in a future column.
(作者:张欣 编辑:丹妮)
中国日报网英语点津版权说明:凡注明来源为"中国日报网英语点津:XXX(署名)"的原创作品,除与中国日报网签署英语点津内容授权协议的网站外,其他任何网站或单位未经允许不得非法盗链、转载和使用,违者必究。如需使用,请与010-84883561联系;凡本网注明"来源:XXX(非英语点津)"的作品,均转载自其它媒体,目的在于传播更多信息,其他媒体如需转载,请与稿件来源方联系,如产生任何问题与本网无关;本网所发布的歌曲、电影片段,版权归原作者所有,仅供学习与研究,如果侵权,请提供版权证明,以便尽快删除。