Twist and turn? 迂回曲折
中国日报网 2021-07-16 13:24
分享到微信 Reader question:
Please explain "twist and turn", as in: every twist and turn of their tumultuous relationship.

My comments:
That is, every twist and turn of their troubled relationship is laid bare and revealed to the public.
Sounds like a lengthy report on a celebrity divorce.
Right?
Anyways, twist and turn means everything, every change in direction to be exact.
To twist is to bend. To turn is to make a change of direction. "Twist and turn" is originally descriptive of rivers and roads, how they zigzags, that is, how they go this way now, that way then, making sharp turns and even going in circles.
Now, as an idiom, twists and turns are descriptive of all the dramatic turns of events in, say, a play. All the twists and turns indicate that things are happening with plenty of surprises.
Hence, every twist and turn of their tumultuous relationship means everything in it, how they met, how they fell in love, how they fought, how their relationship soured, how they made up, how they wanted out in the end.
Everything, every zig, every zag, every change in direction.
All right?
All right, here are media examples of "twist and turn", a very commonplace and useful idiom:

1. Theresa May insisted she would not give a "running commentary" on Brexit negotiations, as she refused to say whether she wanted the UK to stay in the European single market.
The Prime Minister was repeatedly challenged to confirm whether Britain would remain a part of the single market once negotiations on leaving the European Union concluded.
But Mrs May gave little away at her first Prime Minister's Questions since Parliament returned from the summer recess.
While the PM said she wanted control over the movement of people from the EU to the UK and the "right deal" for trade, Mrs May told MPs the Government would not "reveal our hand prematurely" or comment on "every twist and turn".
It comes after the PM distanced herself from Brexit Secretary David Davis' suggestion it was "very improbable" the UK can regain control over its own borders while staying in the single market.
The apparent rebuke sparked concerns ministers are "confused" and cannot agree policy on leaving the EU.
Mrs May was challenged by the Scottish National Party's Westminster leader Angus Robertson to say whether she wanted the UK to stay in the single market.
Mr Robertson claimed that so far the Government had only come up with "waffle" about the post-Brexit plan.
Mrs May said: "What I want for the UK is that we put into practice the vote that was taken by the people of the UK to leave the EU, that we get the right deal for the trade in goods and services with the EU in a new relationship that we will be building with them and that we also introduce control of the movement of people from the European Union into the UK."
Mrs May insisted that "we are respecting the views of the British people" rather than attempting to row back from Brexit.
She added: "We will be seizing the opportunities that leaving the EU now gives us to forge a new role for the UK in the world".
- Theresa May: No 'Running Commentary' On Brexit Negotiations, Sky.com, September 7, 2016.
2. Renée Zellweger is getting into true crime.
The two-time Oscar winner has signed on to star and executive produce NBC's The Thing About Pam, a six-episode true-crime drama series inspired by a real-life story, the network announced Thursday. This marks Zellweger's broadcast TV debut project and has received a straight-to-series pickup.
It's based on the 2011 murder of Betsy Faria that resulted in her husband Russ' conviction. He maintained that he did not kill her and his conviction was later overturned. The crime set off a chain of events that exposed a scheme involving Pam Hupp, who Zellweger will portray in the series.
The true-crime saga was heavily featured on Dateline and became one of the newsmagazine's most popular topics. It also became the central focus of the popular 2019 podcast "The Thing About Pam."
The Thing About Pam is the first scripted project to come from a new partnership between Jason Blum's Blumhouse TV and NBC News Studios. House of Lies and UnREAL's Jessika Borsiczky has been tapped to write and serve as showrunner.
"When you think about what qualifies something as a 'must watch,' I'm not sure you could do any better than the undeniable trifecta of Renée Zellweger, Blumhouse and Dateline," Susan Rovner said. "The twists and turns of this saga are truly stranger than fiction, and in the hands of this incredibly talented artistic team, this series will bring a completely new perspective to a story that has already captivated millions."
"As someone who hasn't missed an episode of Dateline in 10 years, what immediately stood out to me about Pam from other true-crime stories is that while on its surface it has all the twists and turns of a thrilling whodunit murder mystery, it's really a character story at its heart that reflects in a profound way the American landscape back to us," Borsiczky said.
Zellweger won her second Oscar in 2020 for her performance as Judy Garland in Judy. She previously won in 2004 for Cold Mountain. Her sole series regular TV credit to date is Netflix's one-and-done What/If, which co-starred Jane Levy.
- Renée Zellweger to Star in True-Crime Series 'The Thing About Pam', ETOnline.com, February 4, 2021.
3. In a careening Game 5 of a wild Round 2 in 2015, Paul Pierce hit from the corner to put the Wizards up by a point with 8.3 seconds remaining. Pierce, as was his wont, offered on-the-spot commentary, turning to the Hawks' bench and saying, "Series." (This nugget was unearthed by Chris Vivlamore, then the Hawks' AJC beat writer. He's now our sports editor.) Trouble was, the Truth's word – Pierce was known as the Truth – didn't hold true for even 8.3 seconds.
Al Horford shoveled home a Dennis Schroder miss. The Hawks took a 3-2 series lead. They advanced to the Eastern Conference finals after another insane finish in Game 6: Pierce's tying trey was revealed to have come after the horn. There they ran into LeBron, about which we say no more.
A different band of Hawks are embroiled in another Eastern Conference final. Five games have been played, and all that has been made clear is that nobody knows anything. The Hawks stole Game 1 in Milwaukee, which tilted the series their way for all of 48 hours. They were routed in Game 2. They squandered a lead in Game 3 and lost Trae Young, their best player, to a bruised right foot.
In the immediate aftermath of Game 3, the most likely outcome seemed to be Bucks in five. In the immediate aftermath of Game 4, it appeared possible that the Hawks, who had beaten Milwaukee without Young and seen the Bucks lose Giannis Antetokounmpo to a hyperextended knee, would win in six. Nope and nope.
Given that Young twice was listed as "questionable" but sat out games 4 and 5 – to be fair, he did get up, rather often, to cheer for his teammates – he looks fairly close to playing again. He took part in pregame warmups before Game 5. So, we should expect him to give it a try in Game 6, right?
Said Hawks interim coach Nate McMillan, speaking after Thursday's Game 5: "He felt a little better but not good enough to play. He'll still be a game-time decision on Saturday."
With Young, the Hawks should be better than the Bucks without Antetokounmpo. Without Young, they still should be better. In Game, 5 Brook Lopez was allowed to turn into Nikola Jokic, sort of, scoring 33 points. Clint Capela, the Hawks' center, scored six. To be fair, Capela also was listed as "questionable" after getting elbowed in the eye in Game 4, but he played. Said McMillan: "We talk about injuries with our guys all the time. If they are out there, they're ready to go."
The weirdest part of games 4 and 5 was that they began the same way. The Trae-less Hawks hurtled to a 10-2 lead in Game 4. The Giannis-less Bucks led 10-2 in Game 5. The winner in both games never trailed. Yes, both winning teams were playing at home, but we've seen visitors win twice in this series. (Hawks in Game 1, Bucks in Game 3.) That stuff about postseason games being won by The Team That Wants It More usually is a gross simplification. These guys are pros. They both want it the same. Still, desperation can be a determinant.
Trae or no Trae, the Hawks had to win Game 4 to keep from facing elimination in Milwaukee come Game 5. Giannis or no Giannis, the Bucks had to win Game 5 to keep from facing elimination at State Farm Arena on Saturday. Two missions accomplished. Said McMillan afterward: "They were the more physical team tonight, the more aggressive team. … We've got to guard the ball. We've got to be the aggressors. That's what it comes down to. There's no tricks needed."
Then, looking toward Game 6: "I expect us to respond. It's do-or-die."
This will mark the second time in these playoffs the Hawks have faced elimination. In Game 7 of Round 2, they outfought the favored 76ers in Philadelphia on a night when Young missed 18 of 23 shots. If Young can play in Game 6, the Hawks can and should still win this series, seeing as how nobody expects Antetokounmpo to return for even Game 7.
As intriguing as this series has been, it hasn't been especially close. The Hawks won Game 1 by three points. The average margin of the past four games is 15.6 points. The Bucks have scored 19 more baskets, taken 29 more rebounds and made 22 more assists. Still, there's a part of you that wonders how. With Bobby Portis forced to start in Antetokounmpo's absence, Milwaukee's reserves were outscored 32-12 in Game 5. The Hawks are deeper and no less skilled.
Yes, they've put themselves in a position where they can't lose again. Even with all the twists and turns of these past 10 days, the belief remains they won't. Yes, this is me calling "series," even though the Hawks are trailing. Yes, I'm nuts.
- Hawks-Bucks: A strange series heads to Game 6, by Mark Bradley, AJC.com, July 2, 2021.
本文仅代表作者本人观点,与本网立场无关。欢迎大家讨论学术问题,尊重他人,禁止人身攻击和发布一切违反国家现行法律法规的内容。
About the author: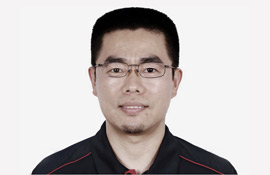 Zhang Xin is Trainer at chinadaily.com.cn. He has been with China Daily since 1988, when he graduated from Beijing Foreign Studies University. Write him at: zhangxin@chinadaily.com.cn, or raise a question for potential use in a future column.
(作者:张欣 编辑:丹妮)
中国日报网英语点津版权说明:凡注明来源为"中国日报网英语点津:XXX(署名)"的原创作品,除与中国日报网签署英语点津内容授权协议的网站外,其他任何网站或单位未经允许不得非法盗链、转载和使用,违者必究。如需使用,请与010-84883561联系;凡本网注明"来源:XXX(非英语点津)"的作品,均转载自其它媒体,目的在于传播更多信息,其他媒体如需转载,请与稿件来源方联系,如产生任何问题与本网无关;本网所发布的歌曲、电影片段,版权归原作者所有,仅供学习与研究,如果侵权,请提供版权证明,以便尽快删除。