Selling like hot cakes?
中国日报网 2023-03-31 14:25
分享到微信 Reader question:
Please explain "hot cakes", as in this: Jay Chou's new album are selling like hot cakes online.
My comments:
Must be.
I heard the other day that Jay Chou's new album became the best selling album in the world.
In the whole wide world.
This is incredible, an improbably achievement, considering the fact that Chou is a rapper from Taiwan and doesn't sing, or rather rap, in the English language.
I'm not a Chou fan – age difference, I guess – but I think this is an enormous achievement to celebrate.
Internationally, this is another great Asian achievement, another great Chinese achievement, even, ethnically speaking – in the wake of Michelle Yeoh winning an Oscar for Best Actress for her role in Everything Everywhere All at Once.
Also, this album is titled Greatest Work of Art.
And quite aptly, too, I may add.
I've got no more comment, though. Like I said, I'm not a Jay Chou fan, so I'd better focus on "hot cakes", the expression in question.
Hot cakes refer to pancakes. They are best served hot. So, it's not difficult to imagine that selling like hot cakes means Jay Chou's albums are flying off the shelves right now.
Selling fast, that is. If you're late, they may be all gone.
The phrase "selling like hotcakes" originated in 19th century America. An article on English-Grammar-lessons.com (Selling like hotcakes, meaning and usage, November 2, 2022) explains:
A "hotcake" is a pancake. The hotcakes that were sold in the 19th century are quite different from the pancakes you may eat today, though – hotcakes were typically made with cornmeal.
This early version of the pancake was a hit. Often sold at fairs and church events, workers had trouble keeping up with the high demand – and hotcakes sold out as quickly as they were made.
It is not surprising that this popular snack item quickly sparked a new phrase, "selling like hotcakes."
Few people realize that "hotcakes" are early pancakes. The phrase stuck around, though. In the modern age, anything from NTFs to smartphones and toilet paper can "sell like hotcakes."
So can a Jay Chou album, obviously.
So, jump onto the Jay Chou bandwagon and buy a copy now – while this album is selling like hot cakes.
Strike the iron, as the fellow said, while it's hot.
Me?
No, thank you. I'll keep listening to the late Teresa Teng, another singer from Taiwan.
And not just another singer, either. She's the greatest of all time, in my opinion. I've been listening to her practically all my life and have yet to get enough.
So, there's really no room for Jay Chou.
Sorry about that. And here are media examples of things selling like hot cakes or hotcakes (one word):
1 With rising costs of living and global uncertainties this year, many tech companies are struggling to keep up with their sheer infinite growth of the past. Even Facebook (or Meta if you will), Apple, and Intel, all incredibly profitable companies, didn't have as rosy numbers as expected in Q2 2022. For Samsung, matters are different, though. It looks like the company's best products like the Galaxy S22 lineup andthe Tab S8 series sold like hotcakes– one of the things that help it shake off any of the supply and demand issues plaguing the tech industry.
In its quarterly earnings report, Samsung shares that its profits are 12% up compared to the same time frame last year. The company mostly pins this down to success in its chip and its broader DX division, which comprises things like displays, business-focused products, and medical equipment. However, the company also specifically mentions its success in the Android market with devices like the Galaxy S22 and the Tab S8 – both products we highly praised in our reviews.
These good numbers come in after reports of Samsung stockpiling various mid-range and entry-level phones in warehouses around the world, making clear that the company is having a harder time selling products to more budget-minded folks. This isn't necessarily a coincidence, though. In a closed-door meeting of executives during CES 2022, Samsung was reportedly looking into competing head-to-head with Apple this year rather than focus on flooding the market with cheaper devices. It seems like this strategy is already starting to pay off.
- Samsung's Galaxy S22 lineup sells like hotcakes despite all that inflation, AndroidPolice.com, July 29, 2022.
2 Netflix's 'The Pez Outlaw' follows the titular man, better known as Steve Glew, an enigmatic man from DeWitt, Michigan. In the 90s, he built a successful business smuggling unique PEZ dispensers from warehouses in Eastern Europe and selling them in the US. The documentary primarily focuses on how these colorful candy cartridges with character heads helped Steve amass a small fortune. Yet, what wins the viewers' hearts is his sweet equation with his wife, Kathy Glew. Now, if you wish to learn more about her and what she's doing nowadays, here are all the details we found!
Who is Kathy Glew?
According to Kathy Glew, her husband, Steve, was initially a recluse who did not like people. She describes him as a schemer, plotter, and dreamer who became so fixated on his projects that he ignored everyone else around him. Yet, she has always maintained that he had a vision and a wonderful nature, which would be visible to those who really get to know him. Kathy stated, "He was a good guy, but you had to look for it." The couple met at eighteen in the 60s, when she was a hippie teenager, and love soon blossomed.
...
Where is Kathy Glew Today?
Sadly, when Steve's European collaborator backed off, Kathy was diagnosed with Parkinson's disease. Thus, he dropped everything and looked after her, as she required extensive care and monitoring. Besides, he even helped her tend to her horses and decided to create his own PEZ designs. In 1998, Steve remortgaged the house and took a loan, collaborating with a toy broker to slyly make PEZ manufacture his designs. Though the products sold like hotcakes for a while, PEZ Candy Inc. soon took a drastic step that drove him out of business.
The company replicated all of Steve's designs and sold them for cheaper rates, causing his business to crash badly. Eventually, he was left with massive debt, but his wife helped him through tough times with her resilience. Though Steve became reclusive again, Kathy became his rock. The couple led a secluded life on their farm for the next several years, with their thirteen pets for company. Steve often credits his spouse for caring for his mental health during that period and for not letting him give up on himself.
- Kathy Glew: Where is Steve Glew's Wife Now? TheCinimaholic.com, January 26, 2023.
3 "There seem to be more and more positive signs coming from the top fruit market," says Louis De Cleene of Devos Group. "Both pears and apples are running off very well. Demand has always been high this season, but now supply really seems to be dwindling, especially for good quality. Still, turnover should not be mistaken for profit. Margins are still very small and really under pressure," Louis explains.
In recent weeks, the grower/exporter has been experiencing a big squeeze. "Actually, we are experiencing a lot of demand in all varieties, weights and qualities. Even from corners I don't normally expect it from. Because we don't want to make a mistake for ourselves and want to continue supplying good quality to existing customers, I simply cannot take some orders."
...
Meanwhile, Louis does feel very positive about their flagship apples, such as Rubis Gold, and pears, such as Early Desire and Queens Forelle. "Rubis Gold does give us hope in anxious days. We have invested a lot in it and planted a large amount, but it seems to be turning out very well for now. We had our first full crop this year with about 100 tonnes from trees we only planted very recently. There is a lot of interest and curiosity. Moreover, several parties have already indicated that they definitely want it in their range. I must also give credit here to the Nicolai family, the originators of the variety. They are very competent professionals, who have chosen for us to roll out the story together in the best possible way."
"In addition, the Early Desire and Queen's Forelle have also sold like hot cakes this year," Louis concludes. "Like all other pears, we have actually had a shortage of those. Since last week, the last crates have left and they have pretty much been pulled out of my hands. We see a lot of potential in these varieties, so that's great to see. Like the Rubis Gold, we won't jump on this like crazy either, but let it grow nicely organically."
"We have to be careful not to mistake today's higher sales for profits", FreshPlaza.com, March 21, 2023.
About the author: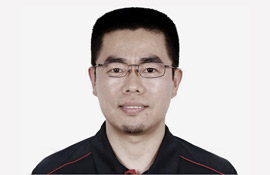 Zhang Xin is Trainer at chinadaily.com.cn. He has been with China Daily since 1988, when he graduated from Beijing Foreign Studies University. Write him at: zhangxin@chinadaily.com.cn, or raise a question for potential use in a future column.
(作者:张欣 编辑:yaning)
中国日报网英语点津版权说明:凡注明来源为"中国日报网英语点津:XXX(署名)"的原创作品,除与中国日报网签署英语点津内容授权协议的网站外,其他任何网站或单位未经允许不得非法盗链、转载和使用,违者必究。如需使用,请与010-84883561联系;凡本网注明"来源:XXX(非英语点津)"的作品,均转载自其它媒体,目的在于传播更多信息,其他媒体如需转载,请与稿件来源方联系,如产生任何问题与本网无关;本网所发布的歌曲、电影片段,版权归原作者所有,仅供学习与研究,如果侵权,请提供版权证明,以便尽快删除。