Relentless wildfires forcing the largest evacuations in California's modern history raged into a fourth day yesterday.
With half a million people driven from their homes, 1,000 houses already lost and some 1,200 sq km scorched across the southern half of the state, Governor Arnold Schwarzenegger  has put economic losses in the hundreds of millions of dollars.
"If the weather cooperates maybe we can turn the tide," US Homeland Security Secretary Michael Chertoff said as he toured San Diego's Qualcomm Stadium, where 10,000 people have taken refuge. "We're still facing some very serious fires."
Weather forecasters say fierce Santa Ana winds blowing in from the desert were beginning to subside yesterday. A drop in the winds, which can howl at gale forces through Southern California's mountain passes and canyons, would also allow for lower temperatures and higher humidity, which could prove crucial in fighting more than a dozen wildfires still burning out of control.
In San Diego firefighters are struggling with four major fires that have forced 500,000 people to evacuate, the largest in the state's recorded history.
US Presdient George W. Bush yesterday obliged Schwarzenegger's request to have the inferno upgraded to a "major disaster", thereby making the state eligible for federal help.
Schwarzenegger said 68,000 homes, from cabins to luxury villas, were threatened across the state and that 10,000 men and women were working the fire lines against flames shooting as high as 30 meters.
Paul Fiest, a spokesman for California's Office of Emergency Services, said the state has not seen such a large evacuation since 1917, the earliest date that records were kept.
(英语点津 Celene 编辑)
About the broadcaster: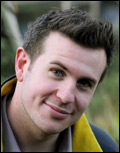 Marc Checkley is a freelance journalist and media producer from Auckland, New Zealand. Marc has an eclectic career in the media/arts, most recently working as a radio journalist for NewstalkZB, New Zealand's leading news radio network, as a feature writer for Travel Inc, New Nutrition Business (UK) and contributor for Mana Magazine and the Sunday Star Times. Marc is also a passionate arts educator and is involved in various media/theatre projects in his native New Zealand and Singapore where he is currently based. Marc joins the China Daily with support from the Asia New Zealand Foundation.