有人说,布兰妮的生活就像一辆无法歇止的破火车,火车一直在运行,可所到之处总是留下残骸……
不管这话有无道理,反正,备受狗仔眷顾的布兰妮总与厄运有约 —— 这不,才被OK!杂志恶批一通,不想又招惹上了撞车。虽然此次车祸有惊无险,但小甜甜的"精彩"瞬间又要被大小八卦津津乐道了。
Britney Spears strikes again! The disaster-prone pop singer has left yet another mess in her wake - this time after crashing into a parked car.
The troubled star was pulling into an empty space when she hit the vehicle - a silver Mercedes station wagon - while visiting a Hollywood pharmacy.
Britney's fender bender is caught on camera
She wasn't injured, but left minor scratches on both vehicles.

Meanwhile, Britney, whose interview with OK! magazine last month made headlines after she reportedly vomited on a designer dress, shows no sign of curbing her erratic behaviour.
Damage control: the former pop star casts her eye over the damage
After posing for the cover of Allure magazine, she failed to show up on several occasions for a sit down interview with the publication, it has been revealed.
The Editor in Chief Linda Wells writes: "I thought we could present the profile as her comeback. Britney showed up for Allure's cover shoot on time and ready to work.
"She was entirely unselfconscious: She took off her wig and then stripped down to the waist, for no apparent reason, before sitting for hair and makeup."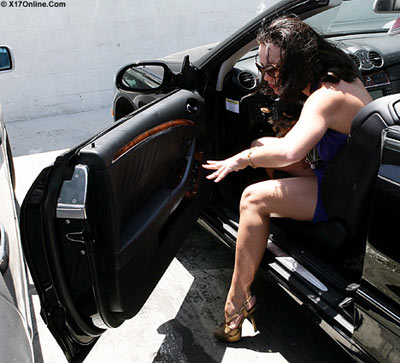 Not just a one hit wonder: Britney hits the car for a second time, this time with her swinging door
She notes that the star was "agreeable and co-operative," but "that was the last we saw of her ... she missed four appointments for an interview."
She added: "Britney has long lost her role-model status ... Spears still commands our attention, perhaps even more so now than before her life imploded."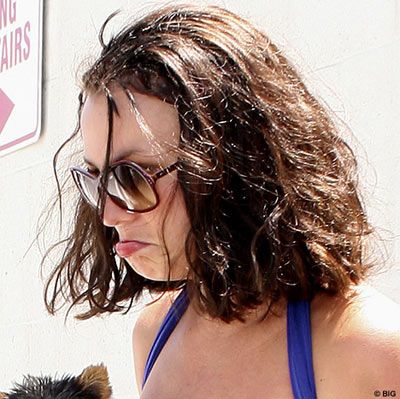 Mess: Britney's hair and driving skills are both in a bad state
The article now focuses on "the nature of celebrity."
Spears' family continues to be concerned for the mother of two - and for her sons.
According to one family friend, Spears "won't listen to anybody."
The source told People magazine: "[Her family] is frustrated with the situation – and worried about the children."


Brave face: Britney still managed a smile after the incident
In a welcomed move, Spears who has been without a manager since firing Larry Rudolph just after leaving rehab earlier this year, is finally looking for guidance to help resuscitate her career - and damaged profile.
TMZ reports she has taken on Jeff Kwatinez, who once managed American pop singer Kelly Clarkson.
(Agencies)

Vocabulary: 
make headlines:成为头条新闻

wig:假发

take on:雇佣 

(英语点津陈蓓编辑)