Writer: Craig McIntosh
I turned on the television the other day. Nothing weird about that, you may say. But you don't understand – I actually watched TV.
For the past four or five years, the flat-screen TV hanging on the wall of my apartment has merely been an extension of my laptop. Anything I watch, I stream on the Internet: movies, serial dramas, documentaries, or music videos.
But what this means is that I tend to binge-watch more, which in turn means less variety.
When I was young, watching TV with my parents on an evening meant being exposed to many different forms of entertainment. We'd watch a soap opera, then maybe a quiz show, then the news, then a police or hospital drama, then maybe a wildlife show, and then a film, which is when my father would inevitably fall asleep. (He has a frustrating habit of nodding off within the first 10 minutes and waking up just as the end credits start rolling, only to ask, "What happened?")
Those days are long gone, it seems. Today, I can spend an evening watching an entire season of Mad Men, or episode upon episode of the BBC family comedy Outnumbered. I've lost count of the amount of times my wife has asked me, "Haven't you watched this one already?"
I probably have, yes – many times.
So the other night, I switched on the TV, grabbed the remote, steeled myself for the unknown and went old-school flipping.
I started in safe territory: China Central Television's sports channel was showing a replay of a European soccer match from the previous weekend. It was 2-0. The commentators repeated haoqiu until they'd truly diminished its meaning.
Flip!
A costume drama with a lot of people talking very seriously one on one (makes a nice change from WeChat groups), with the action switching between two virtually identical rooms. There was tinkling, overwrought music throughout, and a guy with white hair and long eyebrows who gave me the creeps. My wife tells me there is something like 126 episodes.
Flip!
A Jerry Springer-type talk show, only in this one the guests were wearing sad party masks. One of them, a woman in her 50s, started cry-talking – you know, when a person is actually trying to form words but it just ends up a wail. Worst party ever, I guess. Plus there was tinkling, overwrought music throughout.
Flip!
The news. All very standard: Man in suit stares at camera; woman with strangely large hair nods a lot (probably due to the weight of the hair).
Flip!
A madcap comedy movie in which several misfits end up in some ludicrous situation together, forcing them to make ever-more ludicrous decisions until everything all works out. One of them gets a girl in the end.
Flip!
That time was the off switch. I'd had enough, but at least it had reminded me why I started streaming in the first place.
Who says variety is the spice of life?
(编辑:丹妮)
Broadcaster: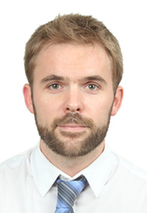 Greg Fountain is a copy editor and occasional presenter for China Daily. Before moving to Beijing in January, 2016 he worked for newspapers in the Middle East and UK. He has an M.A in Print Journalism from the University of Sheffield, a B.A in English and History from the University of Reading.