Writer: Tom Clifford
I met him once. A hotel in Doha. 1991. He was visiting the Arabian Gulf. This was BTI…Before The Internet. We got a call that afternoon in the Gulf Times newsroom. He could meet us for 10 minutes at 2pm. The photographer was having a sandwich for lunch at his desk, and though I can't remember what I did yesterday, I do remember shouting out… "Vic, it's Ali. We have to be there by 2."
Vic the photographer often moved at his own pace, but I never saw anyone drop a sandwich, grab their photo kit and dash across the newsroom, out the door, into the car park, quicker. Just before the designated hour, we arrived. We were escorted into a small room and even before we had done the formalities, Vic was snapping away. Snap. Click. Twirl. Snap Click. Twirl. Muhammad Ali greeted us with an outstretched, unsteady hand and entertained us for 30 minutes, never once breaking stride. He mentioned Sonny, Joe and George, the Rumble and the Thrilla. As the interview ended, he took of his shoes and socks. "I have a trick," he said. With his face to the wall, he seemed to levitate, appearing to hover inches off the floor. He managed it by standing on the nails of his big toes. The pain must have been excruciating. We pleaded with him to stop. The interview ended, we shook hands again, bade our farewells and left. Outside the door, waiting journalists were clearly peeved that we had overstayed our allotted time and probably eaten into theirs. Entering the newsroom just before 3.30, the editor screamed out "800 words inside with picture spread, by 6.30". It was then I realized my notes were patchy. I had been too dumbstruck to write, too in awe, I had been listening too intently.
BTI. At fourteen letters across on a blank piece of paper, I needed at least 57 lines. At 4.20 I had three. And then it came, a stream at first, then in torrents. I finished, submitted it to the editor, he read it, went through it with his blue editing pencil, marked it more than I liked, gave it to the typesetters and said nothing. The following day, 10.30 am, the crack of dawn for journalists, I get a phone call. It was the editor. He never rang at that ungodly hour unless there was a monumental blunder that demanded a severe dressing down.
"He called me," the editor said.
I must have swallowed hard. No, no, don't tell me I messed up the interview.
The words "Ok, what is it?" emerged from a dry throat.
"He didn't like it."
"OK. What part?"
"All of it."
Silence.
"As I said, he didn't like it…he loved it."
A small act of kindness from The Champ. We will not see his like again.
As Muhammad Ali might be saying… At last, I am in heaven.
Anyone who challenges me here will go down in seven.
(编辑:丹妮)
Broadcaster: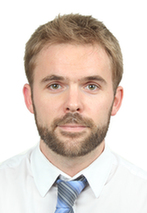 Greg Fountain is a copy editor and occasional presenter for China Daily. Before moving to Beijing in January, 2016 he worked for newspapers in the Middle East and UK. He has an M.A in Print Journalism from the University of Sheffield, a B.A in English and History from the University of Reading.