Writer: Matt Prichard
What attracts migratory humans to take wing in their homelands and alight on a particular foreign shore? Why does an expat move to Italy or Colombia or... to China? What makes some of them stay for years?
I ponder that question every time someone back in the US asks me: When are you going home? Some people say it with an inflection that seems to mean: When are you giving up on your crazy ideas and coming back to where you belong?
I think that inflection is a little sharper among those who can't imagine living where the history, culture and language are very much unlike theirs.
On the first question, surely the top reason is economic. In case, with the kids grown, the chance to live and work in China seemed like a way to satisfy my wanderlust. I had lived in Latin America, where I caught the bug.
What is this pleasure in living surrounded by exotic tongues? While sameness is comforting to some, it isn't always to me.
I will admit that everywhere abroad I've lived, I've had some days when I get aggravated over something that's harder for me because it's different. Most times it's not because it's better or worse, it's just different. Sometimes it's cultural misunderstandings. Other times I'm frustrated by my limited ability to express myself in Chinese.
These frustrations are not particular to any one country, and, once I think about it, I usually find it's my own problem.
Most days life abroad is relatively routine. Occasionally, my wife and I have what we call a "bad China day", which is a day when we're frustrated. (I could have called a bad day back home a "bad US day", and I may do that when I go back.)
Fortunately, we have many more of what we call a "good China day". That's a day when something amazing happens. Someone has treated me with the grace and generosity that is such a wonderful facet of the Chinese national character. Or, I've spent a sunny day or mild evening cycling around Beijing and reveling in this fascinating and beautiful city. Or, a tourist from China's hinterland has asked to take a picture with me, making me feel like a laowai (foreigner) celebrity. Or, I am dumbfounded by the hardworking spirit of people.
On those days, I feel gratitude. It's a little like looking at your wife and realizing just how lucky you are. The fight you had the day before dissolves before your eyes, the issues suddenly becoming trivial. You realize where you were at fault. When you have those days often enough, you become a happier person overall.
Of course, there are many other places I would like to see. In the past year, I've been to Cambodia, Vietnam and Panama for the first time, and I thought all three countries were lovely in their own way.
But I know that in the future, I will have many fond memories of China and my Chinese friends. I will never forget them.
(编辑:丹妮)
Broadcaster: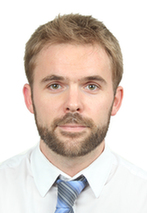 Greg Fountain is a copy editor and occasional presenter for China Daily. Before moving to Beijing in January, 2016 he worked for newspapers in the Middle East and UK. He has an M.A in Print Journalism from the University of Sheffield, a B.A in English and History from the University of Reading.