That number speaks for itself 不言自明
中国日报网 2021-03-30 17:33
分享到微信 Reader question:
Please explain this sentence: That number speaks for itself.

My comments:
That number, whatever that is, should be enough… enough to explain everything.
In other words, that number tells the whole story. No further explanation is needed.
When we speak, we try to make a statement, explain something or express a feeling. In some cases, we use numbers as evidence in support of a point.
For example, fans of Michael Jordan the erstwhile basketball player are used to using the six championship rings he won as evidence that His Airness is the greatest basketball player of all time. When younger fans try to argue that, say, the late Kobe Bryant or LeBron James is a better player than His Airness, Jordan fans like to say: Six (championships) is bigger than five (the number of titles Kobe won), or four (the number of titles to King James's name).
In other words, numbers don't lie, as they say.
There's more to it, of course, than numbers and statistics when it comes to honoring the greatest basketball player and the debate doesn't end there, but Michael Jordan being Michael Jordan, I'll give him a pass, for now.
Jordan fans have a point. Six is bigger than five, or four. Case closed, for now.
Wait till LeBron James gets his fifth or even sixth championship – King James isn't done yet. The debate will open again.
Let me give you another example where a number should be sufficient to explain itself. Donald Trump, the former President of the United States, used to brag about what a fine job he'd done overseeing the fight against the spread of the coronavirus pandemic.
Trump being Trump, he's not going to take responsibility for anything but 400,000 people had died before he left office in January.
Four hundred thousand.
Yeah, you read that right, four hundred thousand.
And, sure, that number speaks for itself.
It's obvious.
Nothing more to say.
Okay, I won't say anything anymore. Here are examples of something speaking for itself in the media:

1. Dr. Anthony Fauci said in an interview with CBS News that referring to a cure for COVID-19 may cause "confusion," and he also weighed in on the health status of President Trump, who contracted the virus but is eager to return to in-person events as the presidential campaign reaches its closing weeks. Fauci also identified the White House ceremony for Supreme Court nominee Amy Coney Barrett as a "super-spreader" event.
Fauci, director of the National institute of Allergy and Infectious Diseases, was asked by CBS News' Steven Portnoy about Mr. Trump's penchant in recent media appearances for referring to the treatment he received for COVID-19 as a "cure." Portnoy, CBS News' White House radio correspondent, observed that until recently, most of the president's aides have not worn masks, and he asked what people can learn about the efficacy of that strategy in preventing the spread of COVID-19.
"I think the — the data speaks for themselves," Fauci said of mask-wearing. "We had a super-spreader event in the White House and it was in a situation where people were crowded together and were not wearing masks. So the data speak for themselves."
And talk of a "cure" is inaccurate, Fauci suggested, since there currently is no cure for COVID-19 — only therapeutics.
"We don't have any indication — I think you really have to depend on what you mean by a 'cure,' because that's a word that leads to a lot of confusion," Fauci said. "We have good treatments for people with advanced disease who are in the hospital."
- Fauci says data on masks "speaks for itself" after "super-spreader" White House event, CBSNews, October 9, 2020.

2. Netflix co-CEO Ted Sarandos said in a Monday interview that the hotly-debated new movie "Cuties" is misunderstood.
"It's a little surprising in 2020 America that we're having a discussion about censoring storytelling," Sarandos said Monday, according to Deadline.
"It's a film that is very misunderstood with some audiences, uniquely within the United States," he continued. "The film speaks for itself. It's a very personal coming of age film, it's the director's story and the film has obviously played very well at Sundance without any of this controversy and played in theaters throughout Europe without any of this controversy."
His comments come after news that a Texas grand jury has indicted Netflix, Inc. for "lewd visual material" in the film that "appeals to the prurient interest in sex, and has no serious, literary, artistic, political, or scientific value."
A Netflix spokeswoman told the DCNF Oct. 6 that "Cuties is a social commentary against the sexualization of young children. This charge is without merit and we stand by the film."
"Cuties" not only includes many close up shots of little girl's crotches and buttocks, but also depicts them viewing pornography and discussing sexual acts and shows one girl photographing her genitalia, among other explicit scenes, a review by the DCNF found.
"It's an award winning film and a powerful story about the pressure young girls face on social media and from society more generally growing up — and we'd encourage anyone who cares about these important issues to watch the movie," a Netflix spokeswoman previously told the DCNF.
Many film critics have defended the film, calling it "provocative," "powerful," "extraordinary," and emphasizing film director Maimouna Doucouré's assertion that the film is a critique of the hyper-sexualization of young girls.
- Netflix CEO Says 'Cuties' Is Misunderstood, But 'Speaks For Itself, DailyCaller.com, October 13, 2020.

3. Golden State Warriors star guard Stephen Curry is happy to let his game do the talking as it pertains to the MVP race this season.
Curry, 32, is in the midst of one of the best stretches of his career, averaging 35.3 points per game and shooting 53-for-101 from beyond the arc over his past eight contests.
After scoring 40 points in a 111-105 win over the Orlando Magic on Thursday night, the former two-time MVP spoke with the type of confidence that has defined the past few years of his career when asked if he'd like to be in the conversation for the award this season.
"The game speaks for itself," said Curry, who previously won the MVP award in the 2014-15 and 2015-16 seasons. "Those two [MVP] years is the exact same kind of conversation. Obviously, that's an amazing accomplishment, and being in that conversation with all that we've been through these last two years, that means something. Those narratives make themselves as you go throughout the season, and my job is obviously just be at the level that I expect to be, and usually that means you're at the top at the end of the season.
"I really try not to get distracted by that because it kind of taints the moment. And really right now, if I'm doing my job, then I'll be there at the end of the season, and that will take care of itself."
After hitting 10 3-pointers on Thursday night, Curry has made at least 10 3s in 17 games, extending his NBA record. Warriors swingman Klay Thompson sits in second with five such games.
"It is routine, which is the crazy part of it," Warriors coach Steve Kerr said of Curry's latest offensive outburst. "You just come to expect it. And these 3s that he hits when there's just nothing there offensively and he just uses his dribble to free himself up, not exactly with a ton of space, just a few inches of space, and then he rises up and you expect every single one of them to go in. It's kind of crazy. He's in a really good groove."
Asked whether Curry belongs in the MVP conversation, Kerr, who has said repeatedly in the past week that he feels Curry is playing the best basketball of his career, was blunt in his assessment.
"I think so," Kerr said. "How could he not be? He's otherworldly."
The one thing that appears to be holding Curry back from garnering more momentum for the award is the Warriors' 14-12 record. When asked if a team's win-loss record should be taken into consideration, Curry offered a measured response.
"It always has and it always will," he said. "You can always make judgments based on what you value and what you see and numbers and wins and losses and the eye test and all that type of stuff. It's kind of what makes the beauty of that award in general because everybody has a different take on what it means. Sometimes the goalposts do change, though, for sure. So it's just a matter of doing my job, and if that means people want to put me in that conversation or any of the other guys, then that's amazing. If not, it's not going to change how I approach the game."
- Golden State Warriors' Stephen Curry on MVP talk: 'Game speaks for itself', ESPN.com, February 12, 2021.
本文仅代表作者本人观点,与本网立场无关。欢迎大家讨论学术问题,尊重他人,禁止人身攻击和发布一切违反国家现行法律法规的内容。
About the author: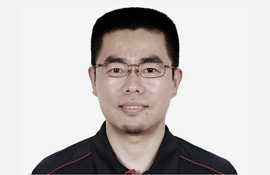 Zhang Xin is Trainer at chinadaily.com.cn. He has been with China Daily since 1988, when he graduated from Beijing Foreign Studies University. Write him at: zhangxin@chinadaily.com.cn, or raise a question for potential use in a future column.
(作者:张欣 编辑:丹妮)
中国日报网英语点津版权说明:凡注明来源为"中国日报网英语点津:XXX(署名)"的原创作品,除与中国日报网签署英语点津内容授权协议的网站外,其他任何网站或单位未经允许不得非法盗链、转载和使用,违者必究。如需使用,请与010-84883561联系;凡本网注明"来源:XXX(非英语点津)"的作品,均转载自其它媒体,目的在于传播更多信息,其他媒体如需转载,请与稿件来源方联系,如产生任何问题与本网无关;本网所发布的歌曲、电影片段,版权归原作者所有,仅供学习与研究,如果侵权,请提供版权证明,以便尽快删除。