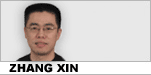 Reader question:
Please explain "look over our shoulder" in this: "All the policy changes have created an environment where most of us feel we have to look over our shoulder to make sure we still have a job."
My comments:
Literally, people look over their shoulder for signs of danger.
Imagine you're walking through a small alley in an unknown part of town in the middle of a moonless night. There are no streets lights and the residents have all gone to bed so all the houses, courtyards are shrouded in darkness.
As you walk along, you begin to recall reading in the newspaper last week that a gang of several youngsters had recently been rounded up for robbing late-night passers by right in this area.
There's a rustling of leaves on the trees. You feel your hair on the back standing up. Are you hearing footsteps?
Probably not. The footsteps are in fact your own. Otherwise, the wind and rustle among the trees are the only noises there are.
You try to turn round but fail at the attempt. Perhaps you're too much in fear to look back. You only manage to turn your head a little bit sideways, trying to make full use of your peripheral vision. Even your peripheral vision is now failing you. You cannot see anything distinctly at all. Yet, you can't stop yourself from gingerly looking over your shoulder left and right.
That's the idea. You look over your shoulder for any sign of threat or danger.
In our example from the top, employees also look over their shoulder at work because... Well, here, "looking over our shoulder" is a metaphor. They're just afraid of losing their jobs. It's not as if every day management sends people with knives and shot guns to oversee them doing their work or anything like that. Still, they look over their shoulder for any new policy changes that may put their jobs into jeopardy.
Perhaps this is a hard time for the company as a whole. It is losing money and management has sounded everyone out that 300 people will be laid off within the next six months.
I can keep painting this picture, but it's a bleak picture and I don't find much fun doing it. Happily, I think you've already got the idea and so let's call it quits right here.
"Looking over one's shoulder", in short, is very widely used as a metaphor, especially in America where people speak a simpler language than do the British. America is a younger culture, and hence it seems people there tend to appreciate and prefer newer and often simpler idioms and expressions.
And here are a few media examples, old and new:
1. When David E. Kelley, formerly a practicing lawyer, took over as the executive producer of L.A. Law this season, he set out to disrupt the harmony that had dulled the show's characters and plots. "Law firms are not families — they're very political," he explains. "You have to look over your shoulder all the time." The result has been a docket full of on-screen conflicts and boardroom wars — the latest being a Dynasty-style power struggle between new mother Ann Kelsey and new partner Rosalind Shays — that Kelly says may continue through next season.
However, don't count on the tensions causing anyone to leave McKenzie, Brackman for his or her own practice, as the character of Abby Perkins did last season. "We would consider it," Kelley says, "but it makes it very difficult to involve the character with the rest of the ensemble."
- "L.A. Law," Pat Sajak, and Garry Shandling made news this week, February 23, 1990, EW.com.
2. Sen. Arlen Specter, R-Pa., says he's ready for a tough re-election race in 2010, whether it's against MSNBC pundit Chris Matthews or someone else.
Specter, 78, declined to speculate on whether he would face Matthews, who reportedly met with Pennsylvania Democratic Party leaders last week about a run. But the GOP moderate said he expected challenges from the left and right as he seeks a sixth term.
"I never look over my shoulder, never look behind. Somebody may be gaining on me. I run with blinders. I'll be prepared, whoever my opponents are," Specter said on CNN's "Late Edition."
- Specter: 'I'll be prepared' for 2010 race, December 1, 2008, NBCNews.com.
3. Sole practitioners make up almost half of all law firms in England and Wales, but with insurance worries, stress and the trend towards mergers, what sort of future is in store for those who break out on their own?
....
In periods of rapid change, there is a marked fear of making mistakes when working without colleagues with whom one would normally discuss cases. This is especially the case for those attempting to keep up-to-date in managing the rapid changes to the legal aid system.
Sole practitioners must familiarise themselves with new developments in the law while doing all the work and reorganisation, without the advantage of moral support.
But how much moral support can be had within a partnership? Many sole practitioners believe that it is only in theory that they are missing out.
They are not convinced that working in a partnership would necessarily provide support.
While it is obvious that input from peers and superiors is lacking in sole practice, many feel their independence means not having to look over their shoulder 'to see where the next dagger's coming from'.
On a practical level, the worst problem for the sole practitioner may be finding locum cover for the holidays; in a partnership, a holiday break may well lead to heightened anxiety through fear of changes which may have been made in the partner's absence.
In bad periods, when they feel at their most unsupported, many sole practitioners feel there is the danger of reaching for the bottle or pills.
Having chosen to work on their own, they must develop the ability to live with the solitude and uncertainty of their work world.
- Going it alone, June 23, 2000, LawGazette.co.uk.
4. So far, so not good in Manhattan.
Coach Mike Woodson said he is not worried about his job security nor is he constantly looking over his shoulder with the New York Knicks off to a slow start. The Knicks (1-3) have lost three straight games, and Woodson felt that in two of them (Minnesota and Charlotte) the team wasn't very competitive early. And the coach just lost Tyson Chandler, his starting center and best defensive player, for four to six weeks with a small non-displaced fracture of his right fibula.
"I have been at this thing 30 years," Woodson said in an interview on ESPN New York 98.7 radio. "And the one thing I never and will never do is look over my shoulder. I won't do that. I got too much pride for that. I think what we have done here for the last few years, we made some major ground."
- Heat rising on Woodson, November 18, 2013, FanNation.com.
本文仅代表作者本人观点,与本网立场无关。欢迎大家讨论学术问题,尊重他人,禁止人身攻击和发布一切违反国家现行法律法规的内容。
About the author:
Zhang Xin is Trainer at chinadaily.com.cn. He has been with China Daily since 1988, when he graduated from Beijing Foreign Studies University. Write him at: zhangxin@chinadaily.com.cn, or raise a question for potential use in a future column.
相关阅读:
(作者张欣 中国日报网英语点津 编辑:陈丹妮)