Reader question:
Please explain this sentence, particularly "egg on the face":
Jeremy Corbyn says Boris Johnson has "egg on his face" and "serious questions to answer" after Porton Down was not able to prove the nerve agent used to poison ex-spy Sergei Skripal and his daughter Yulia was made in Russia.
My comments:
Jeremy Corbyn is the leader of the British Labour Party. Boris Johnson is the British Foreign Secretary. Here, Corbyn says Johnson should be ashamed of himself because the latter made a faulty claim (that the nerve agent used to poison ex-spy Sergei Skripal and his daughter Yulia was made in Russia).
That claim was not backed up by evidence, which is why Corbyn says Johnson has "egg on the face". In other words, Johnson does not look good making a mistake like that.
Anyways, "egg on the face" is the idiom to learn, an idiom of American origin. Some believe "egg on the face" originates from the ordinary dining table, where a careless eater leaves the table with pieces of egg on his or her face. Some believe the idiom may have originated in rowdy theatres where members from a disgruntled audience throw eggs at bad performers, forcing them to quit.
Either way, he who does something and ends up with egg on his face does not look good. In other words, he has not done a neat, tidy and impeccable job. He's blundered and gaffed and made fool of himself. He's not passed the test with flying colors, so to speak. Instead of having gained a feather in the cap, he's got a terrible black eye.
Clichéd metaphors aside, it's reassuring to know that "egg on the face" is a widely used idiom and you'll have no problem getting to grips with it after reading these fairly recent examples of people ending up with egg on their faces in various and sundry situations:
1. It was supposed to be a historic storm, but in the end between one and two inches of snow was recorded in Montgomery County, according to the National Weather Service's 24-hour snow totals recorded Tuesday morning.
Dire forecasts on Monday prompted officials throughout the region to issue a snow emergencies and schools to cancel classes.
But by Tuesday morning it was apparent that the winter storm that was anticipated to dump more than a foot of snow on the region didn't materialize and Montgomery County was spared from what had been dubbed on social media as #Snowmageddon2015.
"My deepest apologies to many key decision makers and so many members of the general public," Gary Stokowski of the National Weather Service in Mount Holly Tweeted early Tuesday. "You made a lot of tough decisions expecting us to get it right, and we didn't. Once again, I'm sorry."
Philly.com's John Bolaris called it a failure on the part of local forecasters.
"From a forecast standpoint, it's been a failure, or better yet, a bust," he wrote. "The morning commute will be very slick and tricky in the locations that get the accumulating snow, along with a very cold strong and gusty wind. The last of the snow will be ending with just some leftover flurries — and some egg on the face of us meteorologists."
- How Much Snow Actually Fell in Horsham? Patch.com, January 27, 2015.
2. Six weeks ago, a former NFL executive said: "Doug Pederson might be less qualified to coach a team than anyone I've ever seen." That ex-GM's name is Mike Lombardi, and he has enough egg on his face right now to make a nice omelette.
The truth is, Lombardi was hardly alone around Labor Day, when he compared the Eagles head coach to the worst in Sixers history, Roy Rubin. No one would have predicted that Doug Pederson would become a candidate for coach of the year in his second season.
But it's happening. Just check the standings, where the Eagles have an NFC-best 5-1 record and a team of happy, overachieving players. It's hard to believe that many of those same faces were barely able to hide their contempt for Pederson's predecessor in the final days of Chip Kelly's grim tenure.
After scoring 21 points with his 15 scripted plays against Arizona, Pederson affirmed his status as a smart strategist again during Thursday night's 28-23 win at Carolina after the Eagles had successfully converted an extra point. The Eagles coach didn't want the point. He wanted the chance for two, thanks to a penalty.
It's rare that an NFL coach takes points off the board, especially with a 17-10 lead, but Pederson said the analytics favored a two-point conversion in that situation. He was right. Moments later, the Birds were ahead 18-10.
Intelligent coaching is not something most of us expected when owner Jeffrey Lurie and GM Howie Roseman chose an old friend to detoxify the locker room after Kelly's smug reign. Pederson's deferential style was interpreted as soft, weak, not conducive to success in the NFL.
In fact, some people openly wondered if he was smart enough to run an NFL team. Many of them were callers on my WIP radio show, and I did not stop them from making that unfair assumption. Pederson even fed into this undercurrent by admitting after the one loss this season in Kansas City that he was "still learning."
What NFL coach says that? Certainly not the most popular ones of the past quarter-century in Philadelphia, head-strong types like Buddy Ryan, Ray Rhodes, Andy Reid and Kelly. Still learning in the billion-dollar pro-football industry? Perish the thought.
There's still plenty of time for Pederson to prove all of his doubters right – parades are not scheduled after six weeks of the season – but what appears to be emerging is the wisdom behind his arrival. Yes, he is unusually friendly and accessible, more willing to acknowledge his own shortcomings. But these qualities are a strength, not a weakness.
- Doug Pederson showing why Mike Lombardi is a former NFL executive, by Angelo Cataldi, PhillyVoice.com, October 16, 2017.
3. Mark Zuckerberg must find a "Goldilocks zone" where the privacy protections are calibrated by the state of digital maturity and levels of digital trust — and are "just right." "If you had asked me, when I got started with Facebook, if one of the central things I'd need to work on now is preventing governments from interfering in each other's elections, there's no way I thought that's what I'd be doing if we talked in 2004 in my dorm room."
His sentence construction may be unwieldy, but Facebook's founder and CEO, Mark Zuckerberg, has been doing a lot of — belated — apologising for the latest instance of an egg on his face. Data on 50 million users had found their way from Facebook to a shadowy research outfit, Global Science Research, and then on to Cambridge Analytica, a data-mining and political consulting firm launched by Steve Bannon, the former White House advisor. Cambridge Analytica is a player of some consequence; it claims credit for tilting the field in favour of the winners in a wide swath of elections — from Donald Trump in the US in 2016 to Nitish Kumar in his landslide win in Bihar over Lalu Prasad Yadav back in 2010.
Zuckerberg has confidently promised to fix Facebook, but it will be far from easy. The ultimate social network is a victim of its own success and eye-watering revenues. When Facebook's 2 billion users around the planet log in every month and share or swipe past some slice of the human condition as offered up by friends, family and others, the users and their contexts are bound to vary widely. To get a sense of the spread of contexts that Facebook must straddle, consider the two most important markets for the company: India, which has the largest number of Facebook users and is among its fastest-growing markets; the home market of the US. Now, add Brazil and Indonesia as the next two markets behind these two dominant ones. To manage a social network spanning this much disparity of socio-political contexts and levels of digital trust would call for Zuckerberg to re-enroll at Harvard and get a degree in what I might call "digital anthropology".
Unfortunately, the education of Mark Zuckerberg — who famously dropped out of Harvard to give the world Facebook — is happening in real time. The data on users is valuable to those who wish to tailor messages for advertising, for political messaging or propaganda. It is tempting to keep the engine that delivered $40 billion in revenue last year humming — keep the eyeballs coming, keep the app developers and partners motivated and keep analysing the data to generate more advertising and affiliated revenue. However, as the Cambridge Analytica breach of trust, coming on the heels of Russian interference and "fake news" reveal, it is easy for the temptation to get out of hand. Where should Facebook draw the line? Which market norms should it use to decide on how much data privacy rules to maintain? How does it restrain its harvesting of user data to put an end to this extended backlash, without sacrificing its revenue model? These questions may not be that easy to answer. By applying the same standards across all markets its revenue engine could stall.
- One misstep too many, by Bhaskar Chakravorti, IndianExpress.com, March 28, 2018.
本文仅代表作者本人观点,与本网立场无关。欢迎大家讨论学术问题,尊重他人,禁止人身攻击和发布一切违反国家现行法律法规的内容。
About the author: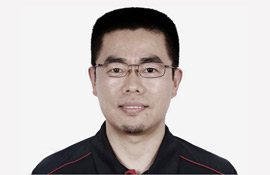 Zhang Xin is Trainer at chinadaily.com.cn. He has been with China Daily since 1988, when he graduated from Beijing Foreign Studies University. Write him at: zhangxin@chinadaily.com.cn, or raise a question for potential use in a future column.
(作者:张欣 编辑:丹妮)