影片对白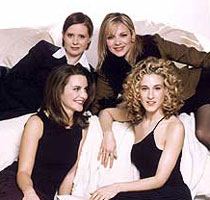 Carrie: Miranda was obliged to attend her firm's annual softball game. A law firm softball game is like any other except when a lawyer steals a base, he gets promoted.
Jeff: Miranda. I was afraid you wouldn't come.
Miranda: All right. Let's get it over with.
Carrie: Panicked at the idea of spending another firm function labeled as a leper, Miranda had agreed to be fixed up on a blind date.
Jeff: Miranda, this is Syd. Syd, Miranda. Look at you two. It's a perfect match. Well, I'm gonna excuse myself.
Syd: Nice to meet you.
Miranda: You too. I'll tell what. I'm gonna get a soda. You want a soda? 
Syd: Yeah.
Miranda: I'm gonna get us a soda. OK. Jeff.
Jeff: Pretty great, huh? Can I pick 'em or what?
Miranda: Yeah. I'm not gay.
Jeff: Seriously? I've been with the firm eight months. I haven't once seen you with a guy.
Miranda: Circumstantial, Jeff. I'm single. Christ! When did being single translate into being gay?
Jeff: Shit. You want me to go over there--
Miranda: No, I'll do it.
Carrie: Brave Miranda marched right over and told Syd she wasn't. They had a good laugh and decided to stay and play ball. Miranda and Syd's last-inning double play got the attention of everyone, even the firm's senior partner.
Charles: That was quite a play, ladies.
Miranda: It's all about teamwork, Charles.
Charles: Chip.
Miranda: Chip.
Charles: Listen, my wife and I are having a little dinner party on the 12th. Just some couples, nothing fancy. We'd love it if you both could make it.
Miranda: We'd love to.
Carrie: Later that night, Miranda gave me the lowdown on her day. So you think it's just because they think that you're in a couple?
Miranda: I know it. I've been with the firm for two years. He's barely spoken to me. All of a sudden, it's "Chip."
Carrie: A lawyer named Chip. Gotta love that.
Miranda: And they seemed so relieved to have finally figured me out.
Carrie: So you'll actually go through with the dinner?
Miranda: Yup. I'm determined to make partner in this firm, even if I have to be a lesbian partner.
Carrie: After Miranda left, I had a thought. Maybe the cold war isn't about hate. Maybe it's about fear, fear of the unknown. Married people don't hate singles. They just want us figured out.
妙语佳句,活学活用
1. Steal a base
指的是棒球比赛中的偷垒:在一次投球后,没有击球员、游击手、传球手或外野手的帮助而安全跑入(另一垒 )To advance safely to (another base) during the delivery of a pitch, without the aid of a base hit, walk, passed ball, or wild pitch.
2. Fix up
这里的意思是"安排",例如to fix up a date,还可以指"To provide a companion (on a date for)",例如:My friend fixed me up with an escort at the last minute.
除了表示"安排(约会/约会的对象/一同做……的对象)"外,fix up 还可以表示"Provide or furnish someone with something",例如:He can fix you up with a new car.
3. Blind date
指的就是a social appointment or date arranged, usually by a third person, between two people who have not met,中文里指的是"相亲",blind date 还可以指约会的"人"。
4. Perfect match
想要形容一对情侣或是夫妇"天生一对"就是用的这个词了。"It's a perfect match. Well, I'm gonna excuse myself."这句话恐怕也是很多安排相亲的人士常说的吧:"你们真是天生一对。我有点事,先走了。(你们聊吧)"