文化面面观  The Witches of Eastwick; Carolyn Bessette&John-John
影片对白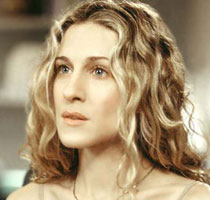 Carrie: In a city of perfect people, no one was more perfect than Brooke. She was aninterior designerwho only dated A-list guys. For Brooke, every Saturday night was like the senior prom. So, when she got married, we were all dying to see which one had made the cut. Was I the only one who remembered that Brooke once described this man as more boring than exposed brick? It was your average $100,000 wedding. Investment bankers and the women who hate them, classmates from Steiner, Dalton and Brown and us. We looked like The Witches of Eastwick. A wedding this size always has two singles tables. We were at the other one.
Charlotte: Hello.
Bernie: Hi. I'm Bernie Turtletaub, friend of the groom.
Carrie: It was the Turtle. A Manhattan legend known for two things: good investments and bad breath.
Samantha: My feet are killing me.
Carrie: Here. Sit down.
Samantha: I can't. This outfit only works when I'm standing.
Bernie: I think it works either way.
Smantha: You know, I, I think I'm at that table over there.
Bernie: Your friend is gorgeous. What do I have to do to get to know her better? Do you think the pears in this tart are bosc or bartlett?
Miranda: Who cares?
Carrie: Two hours later, we were bored. Supplies were dwindling, and one of our passengers hadjumped ship.
Charlotte: Are we gonna stick around and catch the bouquet?
Miranda: That is so not going to happen.
Bernie: Bosc! They've got to be bosc.
Brooke: Can you believe I finally did it? You're next. Bill's got some great single friends. It's always better to marry someone who loves you more than you love them.
Carrie: People are always telling me things I don't want to hear. But this onecrossed the line. Did I wake you?
Big: Not at all.
Carrie: Question. Why do people get married if they're not in love?
Big: I don't know. Companionship, guilt, political asylum?
Carrie: Why did you get married?
Big: I was a fool in love.
Carrie: That is so sweet.
Big: And then I was a fool in divorce court.
Carrie: Now you're just a fool.
Big: Exactly. Which is why I'm never getting married again.
Carrie: Suddenly, I had to concentrate on breathing. Are you in bed with someone?
Big: No. Are you?
Carrie: Just three slices of wedding cake. You jealous?
Big: That depends. What are your plans for the frosting?
Carrie: Good night.
Big: Good night.
Carrie: But then again, I'm dating a man who will never get married and Miranda is having a meaningful relationship with something that comes in box from Japan. In a city of great expectations, is it time to settle for what you can get? I needed some answers. Later that week, I met Brooke. Just back from her honeymoon, she was all business: the business of marriage.
Brooke: I'd like to return these. Anyway, you can melt them down into one decent gift? His friends.
Carrie: So, how is it being married?
Brooke: It's fabulous. I feel like an enormous weight has been lifted.
Carrie: And that's a good thing.
Brooke: What's that supposed to mean?
Carrie: It's just, I mean, just means you're, you're happy with Allen, right?
Brooke: Yes, I'm happy.
Carrie: Well then I'm happy for you. Hey, listen, I hope I didn't give you the wrong idea. I think Allen's great. I just, I mean, he's incredibly successful.
Brooke: We think we're Carolyn Bessette. One day John-John'sout of the pictureand we're happy just to have some guy who can throw around a frisbee.
妙语佳句,活学活用
1. Interior designer
对这个词陌生吗?其实就是"室内设计师"。
2. Jump ship
Jump ship 的本意有些类似于我们中文中的"跳槽":if you jump ship, you leave a job or activity suddenly before it is finished, especially to go and work for someone else. 例如:Another advertising agency offered him $1000 to jump ship.
在这个片段中,jump ship 指的是to withdraw support or membership from a group, organization, cause, etc. 例如:Some of the more liberal members have jumped ship.
文化面面观  The Witches of Eastwick; Carolyn Bessette&John-John