影片对白  So, maybe make sure you don't keep disappointing the wrong people.
影片简介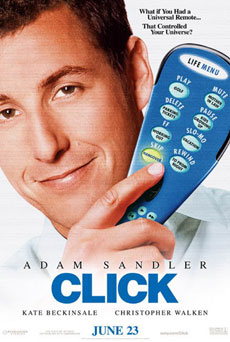 A workaholic architect, frustrated in his job but determined to make a better life for his family, is bestowed with a powerful universal remote that allows him more control over his life than he ever knew possible in director Frank Coraci's high-concept fantasy comedy. On the surface, Michael Newman (Adam Sandler) seems to have it all, yet with all the demands forced upon him by his ungrateful boss (David Hasselhoff), Michael finds that setting aside time to spend with his loving wife, Donna (Kate Beckinsale), and two picture-perfect children, Ben (Joseph Castanon) and Samantha (Tatum McCann), has grown increasingly difficult. When a frustrating bout with the television remote leads the overworked husband and father to a nearby Bed, Bath & Beyond in search of a universal remote with the power to control all of his electronic devices, a curious peek into the back room leads Michael into the company of eccentric employee and talented inventor Morty (Christopher Walken). It seems that Morty has created a device that will not only allow Michael complete control over his television and stereo, but his entire life as well. As Michael discovers that the remarkable device has the power to muffle the barks of the family dog, zoom himself past an irritating quarrel with his wife, and even allow him to travel back and forth through time to different points in his life, the rush of being able to skip straight to the good parts in life soon leaves him feeling as if he's missing out on the total experience. Only when Michael begins to realize that the he has lost control of his life and the remote is now programming him does he finally learn that life is as much about the moments he'd rather forget as it is the moments he will always remember. ~ Jason Buchanan, All Movie Guide
考考你
将下面的对话译成汉语。
Michael: Yeah. I forgot to tell you. We gotta postpone the camping trip. Ammer put me on a project. It's due Tuesday. If I don't finish this design, I'm off it, so...
Donna: The kids have been talking about camping all year.
Michael: Think I don't know that? It's just every choice I make, everything I do, I disappoint somebody.
Donna: So, maybe make sure you don't keep disappointing the wrong people.
Michael: Honey, I'm not out drinking or gambling or hitting on chicks. I'm working my ass off so my family can have a better life than I've dreamed about when I was a kid.
Sex and the City《欲望城市》(精讲十五)考考你 参考答案
P.J.: Well, let's be realistic. I'm only doing this docu bullshit to earn a rep. You know, I may ultimately want to parlay into the action movie arena. I want to make money. I'm not afraid to say it. OK? I love money. I'd sell toilet bowls if it'd make me a millionaire.
哎,咱们说点现实的吧。我拍记录片不过是为了赚点名声。最后多半还是想要去动作片里赌一场的。我想赚钱。好吧,我一点也不怕说出来,我爱钱。只要能成百万富翁,让我卖抽水马桶也行。
Carrie: What about the seagulls?
那那些海鸥呢?
P.J.: Fuck the seagulls.
去他的海鸥。
Carrie: Step right up, folks. Two vodkas and a $12 pasta buys your admission to see The Man With No Soul.
立刻走人。两杯伏特加,加上一份12美元的面条,你就能见识到没有灵魂的人什么样。
影片对白  So, maybe make sure you don't keep disappointing the wrong people.
点击进入: 更多精彩电影回顾 


(英语点津Annabel编辑)