Congressional negotiations to end a US fiscal crisis gripping Washington and spooking financial markets hung by a thread on Saturday after bipartisan talks broke down in the House of Representatives and shifted to Senate leaders.
Senate Majority Leader Harry Reid, a Democrat, held an initial session with Senate Republican leader Mitch McConnell. But uncertainty remained about their ability to reach an agreement quickly to end a partial government shutdown and increase the nation's borrowing authority.
Thursday is the deadline for raising the debt ceiling, necessary to avoid a possible government default. The Senate was scheduled to meet on Sunday, but the US House of Representatives was not, so Congress will be cutting it close.
"Economists say it won't be long before financial markets react negatively to this continued uncertainty," Reid said on the Senate floor.
"The life savings of ordinary Americans are at risk."
Among the unresolved issues is the duration of the debt ceiling increase. House Republicans were pushing a boost that would last only six weeks, producing another potential showdown in the middle of the holiday season. Democrats want to push the next debt ceiling deadline at least well into new year.
Also at issue were government spending levels and Republican concerns about US President Barack Obama's signature healthcare law, popularly known as Obamacare. Republican demands for defunding Obamacare led to the shutdown on Oct 1.
Reid and other Senate Democratic leaders went to the White House to confer with Obama in the afternoon, but said nothing to reporters as they left after an hour and 15 minutes.
At the meeting, Obama and Senate Democratic leaders agreed that talks should continue between Reid and McConnell, a senior party aide said.
"But Democrats' position remained the same: Democrats are willing to negotiate on anything Republicans want to discuss as soon as we reopen the government and pay our bills," the aide added.
Lawmakers in both parties said they were watching for the reaction of the financial markets to the political uncertainty when they reopen after the weekend.
(中国日报网英语点津 丹妮 编辑)
About the broadcaster: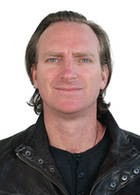 Lance Crayon is a videographer and editor with China Daily. Since living in Beijing he has worked for China Radio International (CRI) and Global Times. Before moving to China he worked in the film industry in Los Angeles as a talent agent and producer. He has a B.A. in English from the University of Texas at Arlington.