8月3日,曾是堆满鲜花、笑容洋溢的庆祝日——我的结婚纪念日。自婚姻解体后,它又成了我的伤心日——直到我看到了一堆牛粪的那天。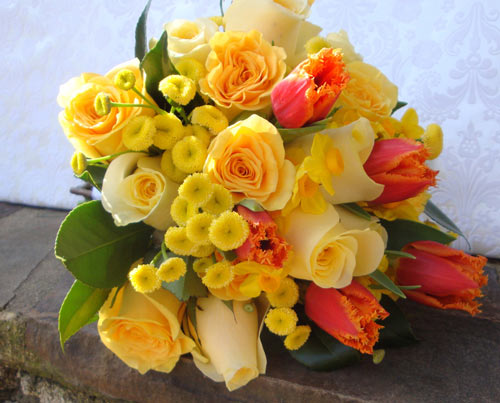 By Amanda Howland
许嘉人 选注
It is the day formerly known as my anniversary, and I am staring at the biggest pile of manure I have ever seen.
I work on a farm, but not this one. This farm, with its notably large pile of poop,[2] is a dairy farm. The farm where I work is a small pick-your-own flower-and-vegetable farm owned by my cousins.
At the small farm where I work, brides and their friends come to pick flowers for their weddings. Husbands, young and old, collect big bunches of sunflowers for their wives on anniversaries. And one Saturday a family of five—parents and grown children—asked me to take their picture along with the bright bouquet[3] they had picked.
"Our parents have been married 25 years today!" their daughter proudly told me.
On a rainy day in August eight years ago, my family and I visited this same small farm to pick buckets[4] full of flowers for my wedding. Two days later, I was married and, with that, what had been just another day on the calendar turned into a special one, to be celebrated with even more flowers and toasts as long we both should live.
But five years later, when my marriage ended, I wasn't sure what to do with the day formerly known as my anniversary. Most notable days in the calendar stay that way. Our birthdays are determined upon arrival. In the United States, we eat a lot on the fourth Thursday in November, and we watch fire in the sky on the fourth day of July[5] – none of that is likely to change anytime soon.
My former anniversary no longer holds the happy significance it once did; at the same time it refuses to blend in with the rest of the days of the month, returning to its former status of another ordinary day.
As the third of August rolls around each summer, I cannot help but notice what day it is. Though I am quite happy with my life as it is, I find myself wondering, on That Day, if my former husband (now remarried with a new anniversary to call his own) or his family notice what day it is. I am pretty sure that my parents do, though they seem more than eager for me to find another fellow and establish a new anniversary of my own.
So when my third un-anniversary appeared last summer, it was a happy coincidence that I had plans to leave work early and tour a friend's dairy farm.[6] Visiting a pretty place and learning something new in the company of an outgoing and successful fellow (on whom I must admit a slight crush) seemed like just the way to say "I do" to the life I am living now,[7] one of new experiences, new questions, and learning how to better follow my heart.
"What do you do with all of that stuff?" I ask the farmer, as we sit in the cab[8] of his truck and watch the big pile of manure. When he says "Manure Day," I think it's a joke for the city girl. But it's true: In springtime a sign goes up announcing the event, and neighbors are invited to the big pile to take home some of this rich, nourishing fertilizer for their gardens.[9]
Perhaps that is what fascinates me about this smelly pile of cow excrement—on its own, manure is unappealing and messy.[10] But spread it on a garden, and out of that thick brown mess sweet and hardy things take root, grow, and even flourish[11].
I do not know what my life will look like next Aug. 3. I might not even notice what day it is.
This year however, instead of worrying about the future or reliving the past, I chose to celebrate the growth happening in the here and now.[12] And so at 4 o'clock in the afternoon—at the same time I was slipping into sequined heels some years ago—I laced up my boots, fed a handful of hay to a big brown cow, and inhaled the stench of the biggest manure pile I have ever seen.[13]
When I got back to the city that evening, I made a celebratory toast—to what was, what will be, and best of all, what is.
Then I went home and fell asleep next to a bright bouquet of blossoms that I had picked for myself, on that small farm owned by my cousins.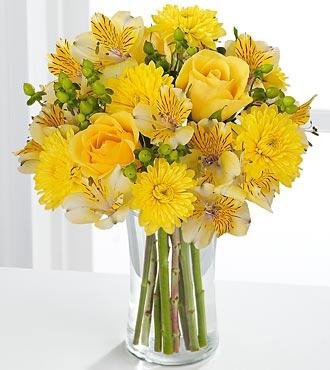 Vocabulary
1. manure: 肥料,粪肥。
2. notably: 显著地;poop: 〈俚〉污物,粪便。
3. bouquet: 花束。
4. bucket: 水桶。
5. 依次指美国的感恩节和独立日。
6. coincidence: 巧合;tour: 观光。
7. company: 陪同;outgoing: 开朗友善的;(have) a crush on sb.: 喜欢某人。
8. cab: 驾驶室。
9. nourishing: 有营养的;fertilizer: 肥料。
10. excrement: 排泄物;unappealing: 令人反感的;messy: 肮脏的。
11. flourish: 茂盛,繁荣。
12. relive: 再经历(或体验);here and now: 此刻,当前。
13. 于是在下午4点——过去若干年的这个时候我往往会穿上闪着亮片的高跟鞋——我套上靴子,给一头棕色的大牛喂了一把干草,吸着这我见过的最大粪便堆的恶臭味。
(来源:英语学习杂志 编辑:陈丹妮)