The sport of cycling has steadily built a following in East Africa in recent years. It doesn't hurt that two-time Tour de France winner Chris Froome was born in Kenya and trained by one of Africa's best cyclists, David Kinjah. And now the town of Machakos, about 56 kilometers southeast of Nairobi, is trying to become Kenya's, and perhaps East Africa's, cycling hub.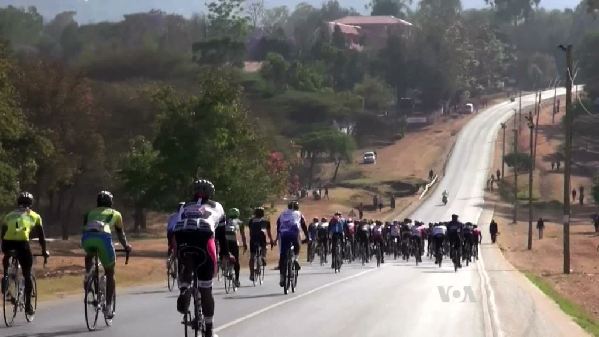 They make it look easy...

At elevations of 1,000 to 1,600 meters [3,280 to 5,250 feet] above sea level, however, cycling these hills is anything but effortless.

That challenge makes Machakos County, Kenya, a showcase venue for the abilities of East African cyclists during the second annual Tour de Machakos.

Serious cyclist

Twenty-three-year-old Cyrus Wambua is one of those riders. Born and raised in Machakos, Wambua has been riding since he was a child. He says his mother encouraged him to start.

"My mother got inspired by that strong guy from the Tour de France, the Lance Armstrong, so I used to read documentaries and when we were a small kid, they used to tell us that one day you'll race like Lance Armstrong," said Wambua.

Uganda's national cycling coach, Jesper Fiedler, says this is one reason why Kenya's and East Africa's cycling community has continued to grow over the years.

"Partly, it's the exposure on TV. More people can watch these races on TV, and then the more people who are riding around in different towns around East Africa, the exposure's just bigger," said Fiedler. "So people, they see, and they say, 'Maybe we should pick up this sport.'"
Race organizer Alex Tibwitta said Machakos has it all: Nice hills, well-maintained roads, good descents and a government that supports the cycling community.

"I'm pretty confident that with the right nurturing, this is definitely the best place to base a sort of cycling in Kenya, and probably in East Africa, yeah," said Tibwitta.

Kenya's tradition

Some of the best marathoners in the world either live or train in the Kenyan towns of Eldoret and Iten, locations that are known for their high elevations. Some cyclists think Machakos could eventually have that same reputation.

"So definitely, this is a perfect place. If somebody wanted to build a camp up in the hills at maybe 2,100 meters [6,890 feet], you're more or less at the same level, as let's say, Iten. So for sure, this could become a new cycle hub as well, that's a perfect setting here, perfect, really good," said Fiedler.

And for cyclists like Wambua, that would be very good news indeed.

"I like cycling so much because as a sport, it always keeps you busy in that you avoid bad company, don't take drugs, even on the other side, it's a source of living," said Wambua. "You can earn something from the cycling event and you push your family, you do your things, and that's all."

The Tour de Machakos is the biggest road race in Kenya, covering 400 kilometers around Machakos County.
This year there were 130 registered cyclists — double last year's number of entrants.
Vocabulary
cycling:自行车赛
entrant:参加竞赛者
来源:VOA
编辑:丁一