Reader question: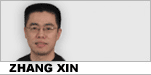 Please explain "head and shoulders better" in this sentence: Bobby Jindal's tax plan is head and shoulders better than Donald Trump's. Why "head and shoulders"?
My comments:
Bobby Jindal and Donald Trump are two Republican candidates in the run for the White House. Let's say Jindal has a tax plan that gives a lot of tax break to the rich. Donald Trump, in contrast, has a tax plan that gives even more tax break to the rich. Therefore to the speaker, Jindal's tax plan sounds more progressive, I mean, less unbearable to the 99 percent (as against the extreme rich, the 1 percent).
Both being Republican, I cannot imagine anything else about either's plans, but anyway, that's how, I assume, why the speaker considers Jindal's plan to be better than Trump's.
The question is, of course, why "head and shoulders better" when "better" suffices.
Take the two candidates' plans as the two persons themselves. You stand them side by side and can see one man is taller than the other, having his head and shoulders above the other.
Naturally, if one person's head stands higher than the other person's, then he is the taller person. As the taller person, his shoulders should be taller than those of the shorter person also, assuming the taller person isn't taller because he has a giraffe-like neck.
Therefore when people compare two persons in terms their physical stature, they say someone is literally head and shoulders taller than the other, meaning decidedly taller and in every way.
By extension, metaphorically speaking, when other two things, whatever they are, are compared, the better one is sometimes described in the same manner, as head and shoulders better or, more often, above the other.
That's head and shoulders – shoulders, plural because one has two shoulders.
Got it?
All right, without further ado, let's read a few media examples:
1. Focus DIY's takeaway kitchens are 'head and shoulders' above the competition.
That is the claim of Craig Hadley, kitchen buyer for the DIY retailer who has canvassed opinion from customers to help with it with the launch of a nine-strong range offering a choice of finishes and designs.
"We've gone out into the market place and identified what our customers want from a kitchen, in terms of design, quality and added features," Mr Hadley told diyweek.net.
"From this research we have compiled a range, which will stand out against the competition. Our new range of take-away kitchens will put us head and shoulders above the competition with a wide range of fascias and worktops to suit any style or budget."
He continued: "Each one of the nine new take-away kitchens comes complete with soft close doors as standard – a first by any of the DIY sheds.
"Customers can further upgrade their kitchen with various options such as soft close drawers, glass wall cabinets and tall larder/appliance units.
"Our customers can create their own unique kitchen off the shelf."
- Focus DIY claims take-away kitchens are 'head and shoulders' above competition, DIYWeek.net, April 28, 2008.
2. Ryan Giggs believe the Premier League has become like the Championship as "anyone can beat anyone", though the Manchester United assistant manager admits Chelsea occupy a level above.
United are fourth after beating Arsenal 2-1 on Saturday, a first away win of the season for Louis van Gaal.
Only 11 points separate Southampton in second position and Stoke City in 11th, and Giggs believes the top tier is now a meritocracy despite Chelsea leading the Saints by six points.
Asked when United will again win the title, Giggs said: "It is a process, I mean I think everyone will agree Chelsea are head and shoulders above anyone else but it's a process and you just have to try to keep improving and see where that takes you.
"It's never easy winning the league or never easy beating teams in the Premier League. We've seen this season it's getting more like the Championship has been year after year. It's a case where anyone can beat anyone so you have to be at your best every week. Hopefully we will be, we'll keep improving, get players back on the pitch and there's enough talent in that dressing room to take us up the league."
- Ryan Giggs: Chelsea are head and shoulders above everyone else, TheGuardian.com, November 25, 2014.
3. TalkTalk chief executive Dido Harding has insisted the company's cybersecurity is "head and shoulders" better than its competitors in the wake of the massive hack attack affecting thousands of customers.
In an interview with the Guardian, Harding conceded it would be "naive" to rule out the prospect of the telecoms firm suffering a similar cyber-attack in the future, describing the threat from hackers as "the crime of our generation".
Asked about claims by an IT researcher that he raised concerns about TalkTalk's security with her office last September, Harding said its security had "improved dramatically" in the last year.
She said: "We are understandably the punchball for everybody wanting to make a point at the moment. Nobody is perfect. God knows, we've just demonstrated that our website security wasn't perfect – I'm not going to pretend it is – but we take it incredibly seriously.
"On that specific vulnerability, it's much better than it was and we are head and shoulders better than some of our competitors and some of the media bodies that were throwing those particular stones."
TalkTalk is unable to say how many of its 4 million customers were affected by the major data breach, in which peoples' names, addresses and partial bank account details were stolen.
- TalkTalk boss says cybersecurity 'head and shoulders' above competitors, MiInforms.com, October 25, 2015.
本文仅代表作者本人观点,与本网立场无关。欢迎大家讨论学术问题,尊重他人,禁止人身攻击和发布一切违反国家现行法律法规的内容。
About the author:
Zhang Xin is Trainer at chinadaily.com.cn. He has been with China Daily since 1988, when he graduated from Beijing Foreign Studies University. Write him at: zhangxin@chinadaily.com.cn, or raise a question for potential use in a future column.
(作者:张欣 编辑:Helen)