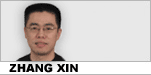 Reader question:
Please explain this sentence: "He clearly is off his rocker and not very reasonable." What rocker?
My comments:
Rocker here does not refer to a rock and roller singer, but a rocking chair.
At least originally, at least, that is, according to one theory.
The rocking chair, you see, is the cozy place or position someone is comfortably in, literally. If you've ever sit in one you'll know exactly what I'm talking about, how comfy a rocking chair is. By gently rocking to and fro, forward and backward, sitting in a rocking chair is a great way to relax and calm down.
Of course, if you rock and swing wildly, the chair becomes unstable and you may fall out of the chair all together. Well, rocking chairs are thus built it's very difficult for anyone, no matter how wildly you rock it, to fall out of it crashing to the floor fact first but you get the idea. To fall off of one's rocking chair suggests, literally that you are falling out of control.
It makes easy sense, doesn't it?
Hence and therefore, by extension and figuratively speaking, if we say someone is off his or her rocker, we mean to say they're out of control, out of control of their emotions, out of their mind.
In other words, they're mad, mad and nutty, nutty and crazy, emotionally unstable.
In our example, that's exactly what the speaker means when he or she points out that "He" is off his chair. That's why he is "not very reasonable". He's having mood swings and is not his usual self, not his usual and calm self, calm and comfortable as though he's rocking gently in a rocking chair.
All right?
Fine. Media examples:
1. BBC Radio 2 presenter Jeremy Vine has been a Chelsea season ticket holder for 20 years. Here he pours out his feelings in a letter to sacked Blues manager Jose Mourinho.
Dear Jose,
This is a very hard letter to write. You have never met me, but every week I sit with my daughter directly above your position in the Stamford Bridge dug-out.
Her name is Martha and she is now eleven. The first time I took her to Chelsea she was four, and you were the manager. She thought it was very funny that visiting Blackburn Rovers fans sang, "You're getting sacked in the morning," and then you actually were.
That was your first bad patch with us. I told her not to worry - you would find another job and Chelsea would find another manager. In fact we found enough to fill a bus: Grant, Scolari, Wilkins, Hiddink, Ancelotti, Villas-Boas, Di Matteo, Benitez. As my daughter grew older, half the new words she learnt were the names of Chelsea managers.
But it was never the same without you. Abramovich, your old boss, got so impatient with the coaches who followed he actually fired Di Matteo for winning the Champions League. It was as if we all knew the Special One would return.
You came back when Martha was nine. She was as thrilled as her dad. I told her what she needed to know: "Mourinho is off his rocker," I said, "but so are all the great artists." I mentioned Salvador Dali and Van Morrison to explain why sometimes the tortured soul makes the best art. I told Martha you knew how to behave - that the madness would work for Chelsea.
- Jose Mourinho: Jeremy Vine's letter to sacked Chelsea boss, BBC.com, December 18, 2015.
2. The midseason addition of Channing Frye also apparently helped the Cavaliers off the court.
Frye was acquired from the Magic in a three-team deal in February and became a key piece of the Cleveland bench down the stretch and in the playoffs. According to a cover story by SI's Lee Jenkins in this week's Sports Illustrated, he also helped bring the team together.
Cleveland blitzed the Eastern playoffs and dissolved locker-room cliques, thanks in part to a new addition. Power forward Channing Frye, acquired from the Magic at the trading deadline, either didn't know about the subgroups or didn't care. He ate with everybody, included everybody on group texts, and dinner reservations expanded to 15.
The road to the championship was rocky at times for the Cavs. Head coach David Blatt was fired during the season, and the roles of Kevin Love and Kyrie Irving were questioned. In March, LeBron James caused a stir with some cryptic tweets and by unfollowing the Cavs on Twitter.
"He was off his rocker for a little while," James's business partner Maverick Carter told Jenkins in June. "He's a perfectionist. He likes everything perfect, and he knew this team could be better."
- Channing Frye helped unify Cavs locker room after being acquired in trade, SI.com, August 2, 2016.
3. White House press secretary Sean Spicer was off his rocker today, getting visibly angry and cutting off reporters at his daily White House briefing.
Spicer quite literally became his own parody. He became Melissa McCarthy's wonderfully evil Saturday Night Live impersonation.
The sad thing for Spicer is that one suspects today was all Trump. It's no secret that Donald Trump regrets hiring Spicer as White House press secretary, and regularly criticizes Spicer's look and demeanor. I suspect that on days like this, when Spicer is particularly spicy, he's acting on Trump's orders.
And while acting like a jerk is sure to please Trump, it's also a good way to alienate the media and much of the public. Sure, Trump's base likes it, but they're irrelevant. They're going to support Trump, regardless. We're now fighting for the middle, and the middle wants a mature White House, not a belligerent one. And this White House is anything but mature. The adults are clearly not in charge. And in the long-run, that's going to hurt both Trump and Republicans at the polls. And that may eventually neuter Trump, or get him removed from office entirely — whether by election, impeachment, or the 25th amendment (though I'm particularly partial to imprisonment).
That's assuming he doesn't get us all killed first.
- Sean Spicer was SNL's Melissa McCarthy today, by John Aravosis, AmericanBlog.com, February 9, 2017.
本文仅代表作者本人观点,与本网立场无关。欢迎大家讨论学术问题,尊重他人,禁止人身攻击和发布一切违反国家现行法律法规的内容。
About the author:
Zhang Xin is Trainer at chinadaily.com.cn. He has been with China Daily since 1988, when he graduated from Beijing Foreign Studies University. Write him at: zhangxin@chinadaily.com.cn, or raise a question for potential use in a future column.
(作者:张欣 编辑:丹妮)