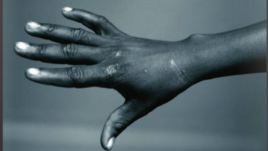 Tuesday is International Day in Support of Victims of Torture. The theme is: Rehabilitation works and is a torture survivor's right. June 26th is the 25th anniversary of the UN Convention against Torture.
Brita Sydhoff is secretary-general of the International Rehabilitation Council for Torture Victims based in Copenhagen. "When we talk about rehabilitation is a need and a right, it means that, according to the international conventions, people who have been subjected to torture and survived have the right to get a holistic rehabilitation. They have the right to medical services. Often they need psychological support in different ways. Sometimes they also need legal support in trying to promote their cases against their perpetrators. And very often also support in income generation."
She said progress has been made against torture around the world.
"The good news I would say is that torture has very much diminished, or at least become very much less, in places like Chile and Argentina, the cone of Latin America and also of course Europe," she said.
She also points to Brazilian President Dilma Rousseff – a former Marxist rebel – who was herself a victim of torture. But despite the progress, Sydhoff said there's much more work to be done.
"We have still far too many countries where torture is very prevalent and actually on the increase. And I would say the increasing countries are those countries that are suffering from often conflict and very often also internal conflict, where torture, like in the Democratic Republic of the Congo, is actually a weapon [used] by the militias and the soldiers to try and see that the local populations are displaced, or that they behave in a way that they think they should do," she said
She said she believes torture will eventually be ended.
"You can fight it and you can forbid it and you can simply say that this is very inhumane and a disgrace to human kind that this kind of activities still go on. I think there is a possibility of doing away with torture. It's very much a will of governments and a will of people to try to not hurt each other unnecessarily, especially not to torture," said Sydhoff.
The International Rehabilitation Council for Torture Victims is an umbrella body for 150 rehabilitation centers in more than 70 countries.
9/11 attack mastermind, co-plotters arraigned at Guantanamo
Kenyans to sue Britain over torture claim
European court bars deportation of two Somalis from Britain
Police arrested over alleged torture of man
(来源:VOA 编辑:旭燕)