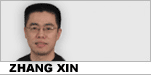 Reader question:
Please explain this sentence, particularly "inside track": They believe he has the inside track with her.
My comments:
In other words, they think he has a special relationship with her. Or put another way, his relationship with her is simply closer than theirs.
Inside track, you see, originally refers to the innermost track in a horse race. Around curves, the inside track is shorter than tracks on the outer side. That is where the advantage lies with the inside track.
In parts of the field where tracks run in straight lines, of course, the difference between the inside track and the outside tracks are nonexistent or at any rate negligible. But round the curves, the benefits of running the inside track becomes clear, that's why horse riders or athletes running the 200-meter or 400-meter races all prefer the inside track.
Gaining the inside track, in short, means gaining an advantage in a race or any competitive situation.
Hence, in our example, if "he" has the inside track with her, then he is in a more advantageous position with her then "they" are. This may mean that she tells him things she doesn't tell others. If she is the boss in an office, for example, and he has the inside track with her, then people may have to ask him to get certain sensitive information from her for them. They have to ask him to get it for them because they don't think they can go directly to her and ask for it. She may not tell them, or may not tell them everything.
Or something like that.
To make the point clearer, let's read a few recent media examples of people having the inside track in various situations:
1. As the San Francisco 49ers' search for Chip Kelly's replacement continues, one candidate's name is still thrown around as the favorite.
Patriots offensive coordinator Josh McDaniels, who reportedly finds San Francisco's opening the most appealing of the jobs he's interviewed for, "has had the inside track" on filling the vacancy, according to The MMQB's Albert Breer:
Josh McDaniels has had the inside track, and my understanding is that he preferred the Niners' situation to the other two he interviewed for, because this is a from-the-ground-up situation. No bad contracts, pick your own QB, high draft picks… it's basically like an expansion team. And there'll be a new GM coming with you, too. If McDaniels gets the job, it could be Lou Riddick filling that role.
McDaniels, 40, has done great work with Tom Brady as the Patriots offensive coordinator the last five seasons.
- Report: Josh McDaniels 'has inside track' to 49ers coaching job, USAToday.com, January 10, 2017.
2. If you believe Esther Newberg, co-head of ICM Partners' publishing unit, former President Barack Obama is about to come into some serious cash — $20 million or more. "There's no doubt Obama's memoir will go for more than any president's has ever gone," she predicts.
The bar is high. George W. Bush got $7 million for 2010's Decision Points (which sold more than 2.6 million copies), and Bill Clinton got a whopping $15 million — a presidential record — for 2001's My Life (sales of 2.2 million). Princeton University presidential historian Julian Zelizer predicts Obama's advance and sales will top both: "There is broader fascination with Obama, from conservatives who really hate him as well as liberals who deeply admire what he did."
Obama, 55, who likely will be repped by Washington lawyer Bob Barnett, recently told senior adviser turned CNN commentator David Axelrod that the book is his top priority. And he hired Cody Keenan, former White House director of speechwriting, to help. While every major publisher likely will bid, Random House, which published Obama's 1995 memoir Dreams of My Father and 2008 campaign book The Audacity of Hope (combined sales: 5 million), as well as both the Clinton and Bush books, has the inside track.
- Barack Obama's Memoir Could Fetch $20 Million Advance, HollywoodReporter.com, January 26, 2017.
3. It is one of the most famous barnets in the world - yet also one of the most puzzling.
While the chaos President Donald Trump has unleashed upon the world has come under both scrutiny and fire, as ever, it is his other-worldly hair which also continues to fascinate.
There's no denying the Trump aesthetic is a unique one. That creosote tan / comb-over combination being instantly recognisable the world over.
Questions about what's happening both in and on his head have been flying around ever since he announced his intention to run for office.
While the former still largely remains a mystery, a medical professional has weighed in on the latter.
Having been Trump's doctor for 37 years, Dr Harold N. Bornstein has the inside track on the President's health.
Dr Bornstein spoke to the New York Times and revealed the secret behind those locks.
In news that will devastate hair-plug and wig theorists, Dr Bornstein explained that the President takes a prostate-related drug, Propecia, to prevent hair loss and male pattern baldness.
The good news about Propecia is that it has a 90 per cent success rate.
The bad news is that once the treatment is completed, it only last for six months AND the reported side-effects include mental confusion and permanent sexual dysfunction.
Dr Bornstein - who has pretty impressive mane himself - also revealed the President took antibiotics to control rosacea, a common skin problem, and a statin for elevated blood cholesterol and lipids.
So there you go, it's all his hair - though a toupe sounds like a lot less hard work.
- The secret behind Trump's hair has finally been revealed by his doctor, Mirror.co.uk, February 4, 2017.
本文仅代表作者本人观点,与本网立场无关。欢迎大家讨论学术问题,尊重他人,禁止人身攻击和发布一切违反国家现行法律法规的内容。
About the author:
Zhang Xin is Trainer at chinadaily.com.cn. He has been with China Daily since 1988, when he graduated from Beijing Foreign Studies University. Write him at: zhangxin@chinadaily.com.cn, or raise a question for potential use in a future column.
(作者:张欣 编辑:丹妮)