Writer: Yuan Zhou
One recent evening, when I got home after work, my wife told me about a major finding: Some parents of children in my son's class have been beating their children for poor performance at school.
While waiting to pick up their children, she said, several mothers compared notes on home physical punishment when words appeared to have failed to correct behaviors like being absent-minded or careless in their children.
One mom said she would cry outside her house after she spanked her son over home work. Another admitted that she and her husband took turns to play the bad cop. All said teachers had acquiesced to physical punishment at home although it was forbidden at school.
I've also been constantly at my wit's end with my own 7-year-old boy who could drift into a trance under my eyes while doing homework. Sometimes he could copy a spelling error 10 times even after he was shown the correct form.
His school gives quizzes and tests every week with results posted on social media along with student ID numbers. As time goes by, we've known the names behind the numbers and the ranking of our children in different subjects. It's excruciating when we see our children's scores falling on the wrong side of the curve.
In my despair, I've done search on a taobao.com, a popular e-commerce site, which turned up hundreds of wooden rulers or bamboo canes, all designed to strike the distraught student on the hands or across the rear.
The best-selling ruler is 36 centimeter long and 3 centimeters wide, at a price of 10 yuan. Its ad says: "You don't have to beat your child with it at home. But you'll possess absolute deterence and it may just be your ultimate weapon when you become desperate in child-rearing."
However, when I showed my son the web page, I saw something more than fear in his eyes that glittered with resentment and contempt. It reminded me of warnings by psychologists on problems associated with the use of force on children, including distress, strained parent-child relationship and anti-social tendencies in the long term.
I read through thousands of comments left by buyers on the site. Some gave it up after they tried it on themselves. Some would dangle it as a threat. Some had worked out agreements with children to get the most out of minimal use.
I thought about the sobbing mom of my son's classmate and the couple who would pick between themselves the more cool-headed one to do the job. Perhaps we'll know there is something wrong about it. We just haven't found a better alternative.
Louis Huang, the Chinese father character in the sitcom Fresh Off the Boat, who has mixed feeling about his tough-love dad, struck a chord when he told his son: "you don't have to be a hard man to be a hard worker."
(编辑:丹妮)
Broadcaster: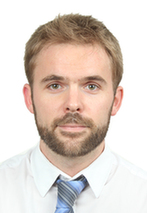 Greg Fountain is a copy editor and occasional presenter for China Daily. Before moving to Beijing in January, 2016 he worked for newspapers in the Middle East and UK. He has an M.A in Print Journalism from the University of Sheffield, a B.A in English and History from the University of Reading.