影片对白  Modelizers are a particular breed. They're a step beyond womanizers who will sleep with just about anything in a skirt.
文化面面观
那些性感尤物们……
1.Veronica Lake
Date of Birth: November 14, 1919
Place of Birth: Brooklyn, New York
Date of Death: July 7, 1973
Given name: Constance Frances Marie Ockleman
Known as "the Peek-a-Boo Girl," actress Veronica Lake was a film star in the early 1940's. The blond beauty was known for her hairstyle, which cascaded over her right eye; it was emulated so much that U.S. government officials actually asked her to change the style during World War II, for fear that women working on assembly lines as part of the wartime effort might be injured by having their long hair caught in their machinery. Her best-known films included Sullivan's Travels with Alan Ladd, This Gun for Hire with Joel McCrea, and So Proudly We Hail! with Claudette Colbert. By 1945, however, her career had peaked, and by 1948 she no longer had a contract with Paramount pictures. The decades afterwards were characterized by attempts at television acting, some roles on the stage, and occasional movie appearances. At the time of her death of hepatitis at the age of 53 in 1973, Veronica Lake was drinking heavily, working as a cocktail waitress, and was married to her fourth husband, a fisherman.
2.Sophia Loren
1934-, Italian film actress, b. as Sophia Scicoloni. She grew up in the slums of Naples. With the help of Italian producer Carlo Ponti (later her husband) she gained international fame as a beautiful and accomplished film actress in both tragic dramas and boisterous comedies. She won the first Academy Award for a foreign-language performance for her role in Two Women (1961), and she received a special Academy Award in 1991 for her body of work. Her movies include The Gold of Naples (1954), The Pride and the Passion (1957), Houseboat (1958), Yesterday, Today and Tomorrow (1963), Marriage Italian Style (1964), and A Special Day (1977). In the autobiographical television movie Sophia Loren: Her Own Story (1980), she played herself and her mother.
3.Montgomery Clift
Born: 17 October 1920
Birthplace: Omaha, Nebraska
Died: 26 July 1966 (heart failure)
Best Known As: Pvt. Prewitt in the film From Here to Eternity
Montgomery Clift was a leading man of stage and screen, most widely known for his Oscar-nominated performance as Pvt. Prewitt in the movie From Here to Eternity (1953, with Frank Sinatra and Burt Lancaster). Clift grew up in the midwest and on the east coast, and started acting on Broadway as a teenager; by age 18 he was playing leading roles and was an early member of the prestigious Actor's Studio. He eventually moved on to Hollywood, where his brooding, reluctant-hero presence was a novelty and made him a popular leading man of the post-war era. His most notable roles -- for which he was also Oscar-nominated -- were in the films The Search (1948), A Place In the Sun (1951), and The Misfits (1961, Marilyn Monroe's last film). Clift is also known for the turmoil in his private life. His sexual preference was the subject of much speculation and he sometimes drank heavily, especially after a 1957 car crash that broke his jaw and nose and damaged his face badly. Clift and Elizabeth Taylor had a famous friendship and co-starred in the films A Place in the Sun (1951), Raintree Country (1957, with Eva Marie Saint) and Suddenly, Last Summer (1959, with Katharine Hepburn).
4.Bing Crosby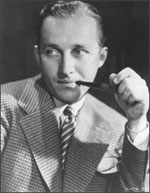 Bing Crosby (born May 3, 1903, Tacoma, Wash., U.S. - died Oct. 14, 1977, near Madrid, Spain) U.S. singer and actor. Crosby began to sing and play drums while studying law in Spokane, Wash. As a singer with the Paul Whiteman orchestra in 1927, he exhibited a mellow "crooning" style and casual stage manner that proved highly popular. He appeared in the early sound film King of Jazz (1931), and he later had his own radio program. By the late 1930s his records had sold millions of copies. His recordings of "White Christmas" and "Silent Night" were among the most popular songs of the 20th century. In the 1940s he starred in a popular radio variety show. His film career included the seven Road comedies with Bob Hope and Dorothy Lamour, beginning with The Road to Singapore (1940); Going My Way (1944, Academy Award); The Bells of St. Mary's (1945); and White Christmas (1954). More than 300 million of his records have been sold, a total surpassed only by Elvis Presley among solo artists.
考考你
用今日所学将下面的句子译成汉语。
1. Bob has a thing about brunettes.
2. They carried on a torrid love affair.
3. The host spices up the party by inviting two dancers.

Sex and the City《欲望城市》(精讲之一)考考你 参考答案
1.星期二我不能来参加宴会了,希望下次吧。
I can't come to dinner Tuesday but hope you'll give me a rain check.
2.我深陷于工作中。
I'm up to my ears in work.
3.我可不想卷入这个问题。
I don't want to get into this problem.
影片对白  Modelizers are a particular breed. They're a step beyond womanizers who will sleep with just about anything in a skirt.

点击进入: 更多精彩电影回顾 


(英语点津Annabel编辑)