Mr. Turner 《透纳先生》
If there's an early frontrunner for Best Actor at Cannes, it's Timothy Spall, star of Mr. Turner, filmmaker Mike Leigh's biopic of celebrated British painter J.M.W. Turner. Going with a period piece for the first time since 1999's Topsy-Turvy, Leigh has wanted to make a movie about Turner, who was famous for his eccentricity, for quite some time; Cannes loves Leigh (Secrets & Lies won the Palme d'Or in 1997), and this looks like the sort of grand valedictory that old masters make.
蒂莫西·斯波领跑本次戛纳电影节最佳男主角提名,他主演的《透纳先生》(Mr. Turner)记录英国画家约瑟夫·马洛德·威廉·透纳(J.M.W. Turner)的一生。
The Rover 《沙海漂流人》
Australian filmmaker David Michôd made his debut with 2010's Animal Kingdom, one of the best thrillers in recent years. His followup film, The Rover, is set in a bleak future in the middle of nowhere that looks like a combination of The Road and The Proposition. The film stars guy's-guy actors Guy Pearce and Scoot McNairy, but it also has Robert Pattinson, in his second of two big Cannes entries. (He's also in David Cronenberg's Maps to the Stars.)
《沙海漂流人》(The Rover)由澳大利亚导演大卫•米奇欧德执导,盖·皮尔斯、斯科特·麦克奈利和罗伯特•帕丁森(同时参演《星图》)联袂出演。
The Search 《搜寻》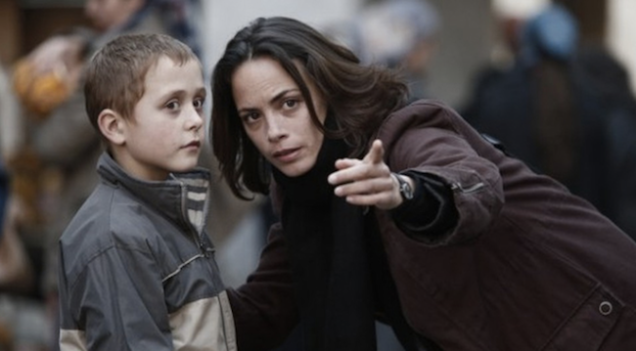 Director Michel Hazanavicius earned Oscar acclaim for 2011's The Artist, one of the rare comedies to win Best Picture, but he's back with a drama starring wife Bérénice Bejo as an NGO worker who befriends a boy in war-torn Chechnya. Based on Fred Zinnemann's 1948 film, The Search is Hazanavicius demonstrating that he doesn't just do silent-film homages (or in the case of his OSS 117 films, cheeky James Bond satires). It's one of the biggest question marks at Cannes, which is where The Artist started its march to award-season victory three years ago.
由迈克尔·哈扎纳维希乌斯执导,2011年上映的影片《艺术家》曾获得奥斯卡最佳影片奖。今年他执导的《搜寻》(The Search)也是本次戛纳电影节上的谜团,其意在通过本片证明他并非只拍默片。
The Tribe 《部落》
Amid the high-profile entries at any festival, there are also the quiet sleepers that end up being major sensations. One of those Cannes surprises could be this nervy drama from Ukrainian filmmaker Myroslav Slaboshpytsky that chronicles the exploits at a school for the deaf and dumb. The NSFW trailer above suggests a mixture of Michael Haneke and Lars Von Trier, but its really provocative hook is that there won't be any subtitles or voiceovers: If you don't know sign language, you'll just have to figure out what's going on. The trailer boldly proclaims, "For love and hatred, you don't need translation." We shall see.
乌克兰导演米罗斯拉夫·司拉博夫斯基所执导的《部落》(The Tribe)令人叹为观止。预告片最大的亮点是没有字幕或者任何画外音。
Two Days, One Night 《两天一夜》
Luc and Jean-Pierre Dardenne are among the most decorated Cannes filmmakers of all time: Two of their movies, 1999's Rosetta and 2005's L'Enfant, won the Palme d'Or, and their most recent, 2011's The Kid With a Bike, took home the Grand Prix. You don't go to their films for their layered plots—you go for their skill at crafting moving, bare-bones character dramas. Their latest is predictably simple in its logline—a woman has to convince her coworkers to forgo their bonuses so that she can hold onto her job—but what's new for the Dardennes is that Two Days, One Night has a star in it. The presence of Oscar-winner Marion Cotillard alone guarantees that, even if this movie is terrible, it'll get more attention in the US and elsewhere than any of the brothers' previous films. But considering that they've never made even a just-OK film, that shouldn't be a concern.
比利时著名兄弟导演达内兄弟曾两次获得金棕榈奖。这次达内兄弟的《两天一夜》(Two Days, One Night)虽然情节简单,但奥斯卡影后玛丽昂·歌迪亚的出演吸引了不少眼球。
Winter Sleep 《冬眠》
Turkish filmmaker Nuri Bilge Ceylan has been a Cannes favorite for a while, winning prizes for his films Distant (2002) and Once Upon a Time in Anatolia (2011), his sort-of murder mystery in which the police drive around the countryside trying to help jog the confessed killer's memory about where he buried the body. Winter Sleep is his longest film at over three hours, and there aren't many plot details available aside from the fact that it's a domestic drama. (The above teaser trailer even lacks English subtitles.) But Ceylan's movies have always been more about mood than plot, and this very much looks to be in that same vein. For all his Cannes acclaim, he's never won the Palme d'Or: Little surprise that festival handicappers have pegged this one as the film to beat. Sight unseen, of course.
土耳其导演努里·比格·锡兰(Nuri Bilge Ceylan)曾凭2002年影片《远方》(Distant)及2011年上映的《安纳托利亚往事》(Once Upon a Time in Anatolia)赢得多项大奖。《冬眠》(Winter Sleep)是他执导最长的影片,时长超过3个小时。
(来源:中国日报网爱新闻 译者:Jemer 编辑:丹妮)